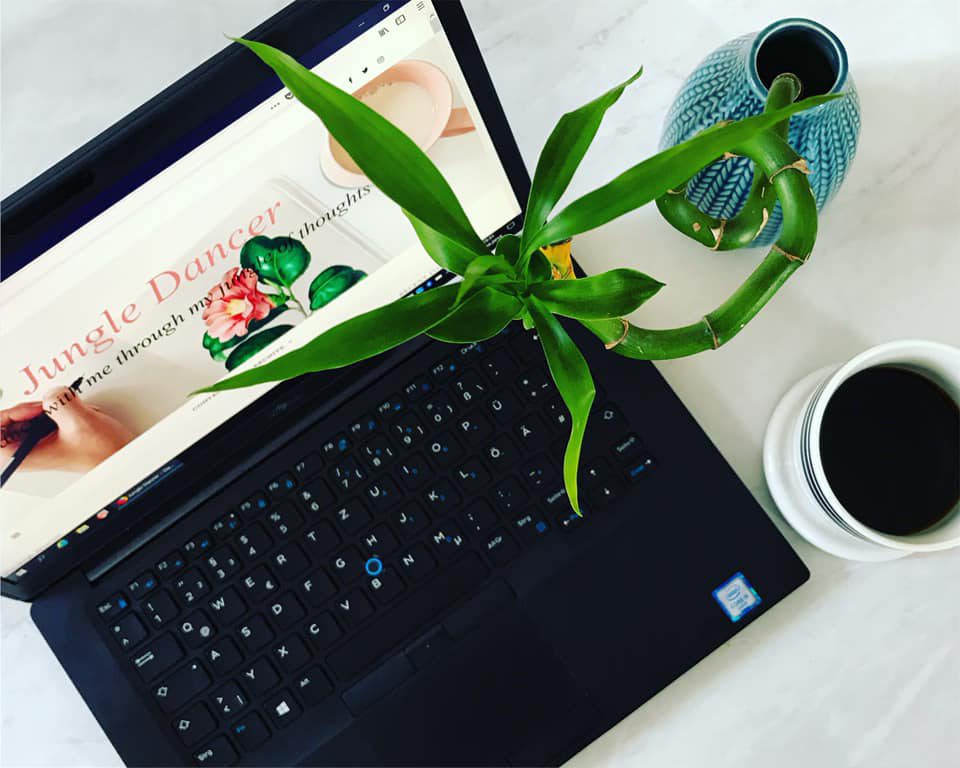 When hopes collide with reality: what did I learn from having a blog?
On 25th of February, I celebrated half a year of having a blog. In an honor of this half-anniversary, I want to evaluate whether this experience is as I expected it to be. Reflecting upon the past six months, I realized that I learned quite some important lessons on starting a project on my own.
Reality crushed many of the hopes I had regarding what will happen to the blog. In this post, I want to share some of these lessons with you. I think, even if you are not at all interested in having a blog, some of them might still be intriguing to you as a reader. On top of that, I also want to outline the main challenges and maybe break down some of the taboos concerning blogging.
For those of you who know me, you know that I really enjoy writing and this self-fulfilling project aims to collect all of my writing and ideas in one place. At the same time, it is supposed to also motivate me to write in a more organized and disciplined manner. But, was this really the case? What were my hopes and dreams for my blog and what is the reality?
1. Hope: Preparing a post takes an hour or two
Reality: Preparing a post takes an hour or… six
This was honestly – mind-blowing. Since I want to do some research for some of my blog posts, and then think how to write in an understandable way for many, some posts can really be time consuming. Some of the posts that took quite some time because of researching the topics were the one on ink-wash painting, and the Nobel Prize in Physics (part I and part II).
Others take a lot of time because of the photographs. For example, my travel-related posts can take just a few hours to pick up the photos, arrange them in a meaningful way, and then edit them a bit. I had no idea that I can loose three hours on photography-related matters and then not even spark an interest among the readers. It can be – honestly said – quite frustrating.
The more personal posts pose the challenge of privacy vs. relatable. It is widely known that people love to read personal stories they can relate to, but it takes quite a while for me as a writer to decide how much I want to share. It is funny, really, because we always perceive things from our own point of view. One of my most-well read article was about moving in with my boyfriend and at first – I did not even want to post it. I thought it was "too much drama" or "too personal" or "no one cares about this sh*t". In the end, this post got so much attention and so many people contacted me about it, that I was completely puzzled. I realized: what the consumer wants, is not always the same with the supply.
Consequence: Demotivation and struggling to find time to write as regularly as I want to
When creating a post takes so much time, but it sparks little to no interest – it makes it very hard to stay motivated. Additionally, sometimes I get an idea and I want to write something,  but then I realize that with all of my work, my efforts to exercise, cook, and sleep – I am left with not much time to write. Turns out, blogging can indeed be a full-time job, depending on how seriously you take it.
2. Hope: I will share my posts on my social media accounts and everyone will (consistently) visit my blog
Reality: The proportion of people who love reading is constantly decreasing
This means, in my pool of followers (even though on some of my social media accounts is relatively big), only a small fraction actually likes reading. Many will click on some of the articles' links, but rarely anyone will get to the end of them. Those who do – almost never share the articles or recommend them to friends. The statistics tool that I am using, shows that the average time people spend on my posts is some two minutes. Even I need more time than two minutes to read my articles. That means, even writing this is probably pointless, because not many of you will get to read it. 🙂
Consequence: I am starting to think more often how to attract larger audience and get out of my friends/followers zone
This is quite hard, especially when you are clueless about digital marketing and SEO (search engine optimization). I have installed some tools that can help me improve my writing in terms of how well suited is to be discovered by searches on google, but I still do not have a loyal pool of readers. I am reaching the point when I am starting to think whether I want to invest more time (and possibly, money) to reach out to people; keep things as they are and just continue writing because I enjoy it; or, stop writing altogether. The last option is probably the least likely one, but who knows!?
3. Hope: This will be fun!
Reality: It is fun, but it is also…
…another obligation on my to-do list. I am really sad to realize this, but sometimes I obsess over what others would like to read and what others would find use in, and then somehow my creative spark dies. I realized that this is a no way to go, since even though I really do want people to read my blog, I started it first and foremost for myself. To have a platform where I can explore my interests and hope that – with time – I will build up a tribe which shares my interests and finds joy in reading about them.
Consequence: I am learning to shift the focus from "what do other people want to read about?" to "what do I want to write about?"
It takes a bit of courage since no writer – amateur or professional – wants to talk to herself. Nevertheless, I am trying to stand up for myself and always go back to that initial idea: I am doing this because I love writing, because I want to save my articles (instead throw them away or delete them), and because I want to relax my brain by pouring my thoughts out.
Furthermore, I think this kind of a mindset is important in no matter what you endeavor. The most inspiring and successful stories are about people who stayed true to themselves and with time, the World recognized their passion for what they do. Of course, my blog is neither as serious nor as genius as Leonardo da Vinci's plans for helicopters, but I do think I should keep up doing the work I find fulfilling and I can only encourage you to do the same if you have started a project on your own and struggle to keep it up and running.
4. Hope: I only need good-quality content in order to reach readers
Reality: I have no idea what I need in order to reach readers
We often see that great products do not perform so well on the market, others get popular overnight, people follow all sort of content, and some become popular with just a video. Thus, I naturally struggle – as many others – to somehow make myself heard in the loud club called the internet.
Consequence: I am starting to think my content is really bad and this can be quite devastating
Thus, I often have to repeat to myself that it does not have to mean that my content is bad; it could just mean that I have not yet reached the right people. I cannot expect that everyone will like everything that I write and that is just fine. Nevertheless, this can take quite some mental effort and eventually, can be demotivating. I am learning that building up a loyal reading network takes more than just writing and posting on social media and that six months is almost no time to really get an impression of how well I am doing. On the other hand, it is not all that hopeless. I do have some friends who write me to tell me that they are reading what I am writing. And if they all leave, my many thanks go to my boyfriend and my family. 🙂
5. Hope: No matter what happens, I will not think of quitting
Reality: I am influenced more than what I expected to be by the number of views of my posts
At first, this was weird to me, but the more I think about it, the more sense it makes. Deciding to put myself out there, means that I am putting efforts into building something of my own. Not really a product, but maybe a mild version of a brand. Although the focus is still on the writing, I am shifting from the "diary" to the "book" mindset. And books are made to be read by more people other than their author.
Consequence: Conflicts of thought
This means, that my idea to stay true to myself (point 3) is sometimes in direct conflict with the mindset that my brand needs a larger audience. How I will solve this conflict – only time will show. On the one hand, I have the thought of quitting – I cannot lie; but, on the other, I think it is too early to do so. Rome was not built in a day.
6. Hope: No matter what happens, there is no way I will stop loving to write
Reality: There is no way I will stop loving to write
Finally. A hope that matches the reality. I will drink to that. 🙂
Consequence: I am learning so much more about writing because I have this blog
Thanks to some tools, I became more aware about the length of my sentences, my usage of connection words, passive and active voice, and readability in general. I learn a lot with every new article, and this is wonderful to experience and see. At the end of the day, I believe that I am growing as a person and as a writer by keeping up the blog and this is where I get my main motivation from.
Final remarks
Running the blog takes so much more time and effort than what I'd expected. The most challenging part is the psychological effort I have to make in order to stay motivated and focused and not get discouraged by the absence of readers on some of my posts.
Nevertheless, this has proven to be a valuable lesson on building up stamina to keep on doing what I love and learning how not to appreciate external validation above all. If all I cared about was the positive feedback from other people, I would have stopped working on the blog after a month or two. Additionally, by doing this, I also have to remind myself that absence of external validation does not equate to lack of worth or quality and that there are infinitely many factors that determine whether a blog will attract readers or not. At the end of the day I think that it is of vital importance to learn how to believe in the quality of our work and accept criticism (if present at all) as a chance to learn and grow.