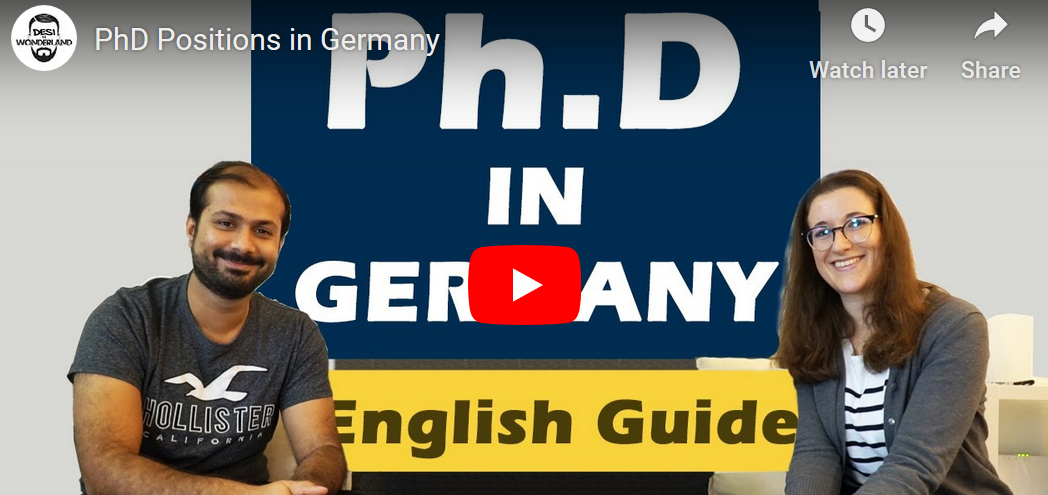 Searching for a PhD position in Germany? Here is what you need to know
A while ago, I did an interview with a friend of mine on the topic of: (finding a) PhD position in Germany. The interview is available later in this post. Nevertheless, as a first and the most important side remark – keep on reading and watch the interview if you are interested in:
why should I go for a PhD position in Germany?
eligibility criteria
scholarships and funding
what comes after the PhD, and so much more.
Ground Zero: Reasons of doing a PhD (in Germany)
Before you go for a PhD – think what you want to do. The PhD will last for a while and there is always the risk factor that it will not go as expected. You need to decide whether taking the risk is worth it and whether you go for the PhD because you actually like the work.
I know that for many who want to stay or come to Germany, PhD can often be an easier option from a bureaucratic point of view. Sometimes, it is easier to get a PhD and extend your visa on this basis, rather than to get a job. Thus, many accept the offers since this often seems the only way out. I understand this, trust me, since I am also a non-EU citizen, so also I have to go through the tiring procedure of applying for a residence permit. However, if this is the only reason why you go for a PhD – the process of getting a PhD might be truly excruciating for you.
You should try to apply for a PhD in Germany, when you realize you really want to do one. Large portion of your research will be you saying the sentence: this does not work. And you will have to firstly overcome the frustration that it does not work, and only then figure out why it does no work and make it work. And then: repeat. Endless vicious circle. However, the satisfaction of working on first-hand research on a topic you are truly passionate about and being dedicated to analyzing and tackling such problems, compares to no other pleasure on Earth. This believe should be your main drive.
Now, once we got this out of the way, you are ready to watch the interview. It might be a long one, but if you consider doing a PhD in Germany it is worth a watch. If you are the type who prefers reading, this blog post summarizes many of its core points in a structured way. Thus, I hope, my writing will provide many useful tips and links for you.
1. Eligibility criteria for getting a PhD position in Germany
Germany is in many ways still a conservative country. Thus, when you read a posting for an open PhD position, the chances that you will read something like "GPA of 1.5 or higher (is a must)" are prettyyyyy high. Do not be discouraged from applying if your GPA is worse than this! Here are some reasons why:
You are judged as an overall candidate and you are so much more than just your grades. This means: soft skills, specific skills such as writing, data analysis, programing, lab-working techniques, conducting surveys, etc. are often more vital than your grades. Therefore, some of these are more important to your team leader than your grades.
You will be judged the most throughout the interview process. Come prepared. Be careful how you communicate with the team. Ask questions. Be informed what the research group does and show that you know where you will fit.
You can show up your strengths into your application. Correlate your previous experience and skills to what the current position is asking from you.
Every group leader judges you by your motivation and interest to do a PhD. The following three to five years will be often tiring, demanding, and frustrating and you need to show you have what it takes: patience, resilience, and dedication. Grades do not (always) show that.
2. Research proposal
Do you really need one in order to get a PhD position in Germany? Well, it varies.
Unspecified projects within research groups (usually at Universities): yes, often, you will need a research proposal.
These open positions are of the type: a Professor working in the field of X and Y searches for a PhD candidate to work in the sub-field Z. Namely, these professors only specify a vast research field, but they expect you to come on your own with a research topic and proposal. If they like it, they will invite you for an interview. This means, you need to have an intriguing research question not only to yourself, but also to those who will evaluate your application.
Upside 🙂 Great if you have an original idea that you want to develop and you are very sure what you want to work on. You can then approach a group that shares your interest and "sell" your idea. Offers almost unlimited flexibility.
Downside 🙁 Takes a lot of time. A research proposal is not written after a simple google search. You need to invest a lot of hours of research, get access to lots of papers and be sure that what you are writing makes sense, but is also novel and has enough of open questions that you can spend years investigating. Not the right approach if you know only the broad field you want to work in (for example, gender studies, genetics, public relations, or Quantum Field Theory), but do not know specifics. During your research, you might be the most qualified person in the topic, so it might be hard to find help/assistance when you hit dead end.

Specified projects within research groups, both at Universities and (more often) at research institutes. No, you will not need a research proposal because the research project has already been specified.
This is what I went for. I knew the general field I wanted to work in so I started searching PhD positions where it was clearly specified what we will research, and what the main motivation and goals are.
Upside 🙂 takes less time, less research prior to getting the position, more specific. Saves you time also when you start your project because you have right away an idea what you will work on. You will not spend months doing background research (once again, after the research proposal) formulating your research question even better. Often you have experienced people in your group who can guide you and help you. These projects are often funded, which means you will have quick access to resources; unlike maybe for a personal project – you might need to apply for external funding.
Downside 🙁 it might happen that midway you realize that this project is too limiting for your interests. Or, that it simply does not work as well as it was sold to you. Dead ends are harder to overcome because the time might be more limited, so you need to stay on a fast, super-focused track.
3. Funding for PhD position in Germany
This is probably the topic everyone cares the most about. Can I focus on my PhD and have a certain financial stability, or will I still have to work at night in bars to support myself? Well, once again, it depends. Germany offers several types of financial aid:
scholarships
grants (external funding)
payed positions
Needless to say, the last option is – from a financial point of view – your best option.
Why? Because:
Contract: you sign a contract, so you are protected legally in many ways
Benefits: you are treated as an employee, so you also get social and health insurance, and money into your retirement fund. Additionally, you can apply for tax return.
Afterwards: you can apply for unemployment money after you graduate. Especially important if you are a non-EU member and might apply for a job-seeking visa in Germany. This means, after you finish your PhD, you still need to show to the Immigration office a proof of income. Since you have paid taxes for three years during your PhD you will be right away eligible for unemployment money and therefore, you can more easily obtain the visa.
Where do you find such positions?
research institutes. The biggest research networks within Germany are:
University – industry or research institutes – industry collaborations
PhD-s within companies
very rarely at Universities only. Not that you do not sign a contract there, but where you get your money from is different. It is not same if it is a funded project for which you receive a salary and a scholarship-based funding.
4. Scholarship platforms for PhD position in Germany
Nevertheless, let's say you went for a University group, wrote a research proposal, got the position, but you are required to get a scholarship for your research. Where can you find them?
Pay attention to their duration, the criteria on which they award them, and the amount of money (yet, it can vary a lot!).
5. Platforms where you can find open PhD position in Germany
The same four platforms I listed above for scholarships, as well as the research associations mentioned in Point 3. In addition to these, check also platforms like: LinkedIn (make sure you have a profile), XinG, Stepstone and Indeed. XinG apparently is the most used and most successful platform of this type in Germany.
6. Duration of your PhD
It varies by multiples of factors.
If you go for a contract within an institute, you will be expected to complete your PhD within three to four years. However, no one prevents you from working longer. The main questions is: will your institute be willing to keep on paying you? Most likely, you can get a half a year of an extension; in exceptional cases maybe a year – but not more.
If you go for a scholarship within an institute, you will be expected to complete your PhD within the duration of your scholarship. However, people often apply for new scholarships, or decided to keep on working unpaid. It can prolong.
If you go for research proposal, University group and scholarship – chances are this will take the longest. Why?
Research proposal: especially if you are interested in the natural sciences or engineering, you will most likely need to develop methods and build equipment. This can easily take more than half a year.
Applying for scholarships: you can loose months just on preparing these applications
Teaching obligations at Universities: you have to be a teaching assistaint for quite some semesters. Many of the PhD-s in Germany spend significant time on this, so then they need time for their actual research. Nevertheless, if you want to stay in academia – this is of vital importance for you.
7. I got my PhD position in Germany: what now?
People often think that if you go for a PhD, you are a student who wants to stay in academia. WRONG! Especially in Germany, there are not many open job positions in academia and many of the doctoral researchers know this from the start. So, why should you do a PhD?
In many cases, your PhD can be your chances to explore what you want to do. You can obtain skills which you cannot in the classroom, but it is still not a corporate-type job. The experience and the skills that you will obtain will be the ones that you will emphasize when looking for a job later on. In Germany, your starting salary with a PhD is higher. You can climb the hierarchy ladder faster. Switching positions as well as consulting is easier.
Therefore, do not stay focused on the mindset academia in-or I am out. Expand your horizons. Use your PhD time to understand yourself and build a network. Use conferences and career fairs as platforms to learn from people, not only events where you present your research. In this way, you can stay focused on your research, but also open minded about your career and future. In case you want real examples, check what I learned in my first year of PhD, other than just doing my research.
8. Final remarks
Keep in mind that when evaluating options, you need to take yourself and your conditions into consideration first. Listen to advice, but do not follow it blindly. Evaluate pros and cons and then start applying. Any hesitations you might have, might come on the surface during the interviewing processes. Keep an open eye to this as well. It is never too late to change your mind or step out/step in.
Finally, tell me: why do you want to get a PhD position in Germany? Was this post useful for you?
Last, but not least, I want to thank Jibran for being a great friend and also for the insightful questions that made the interview so cool. He has a nice YouTube channel for many matters correlating to living in Germany, so check it out if you are moving or living here. Good luck!