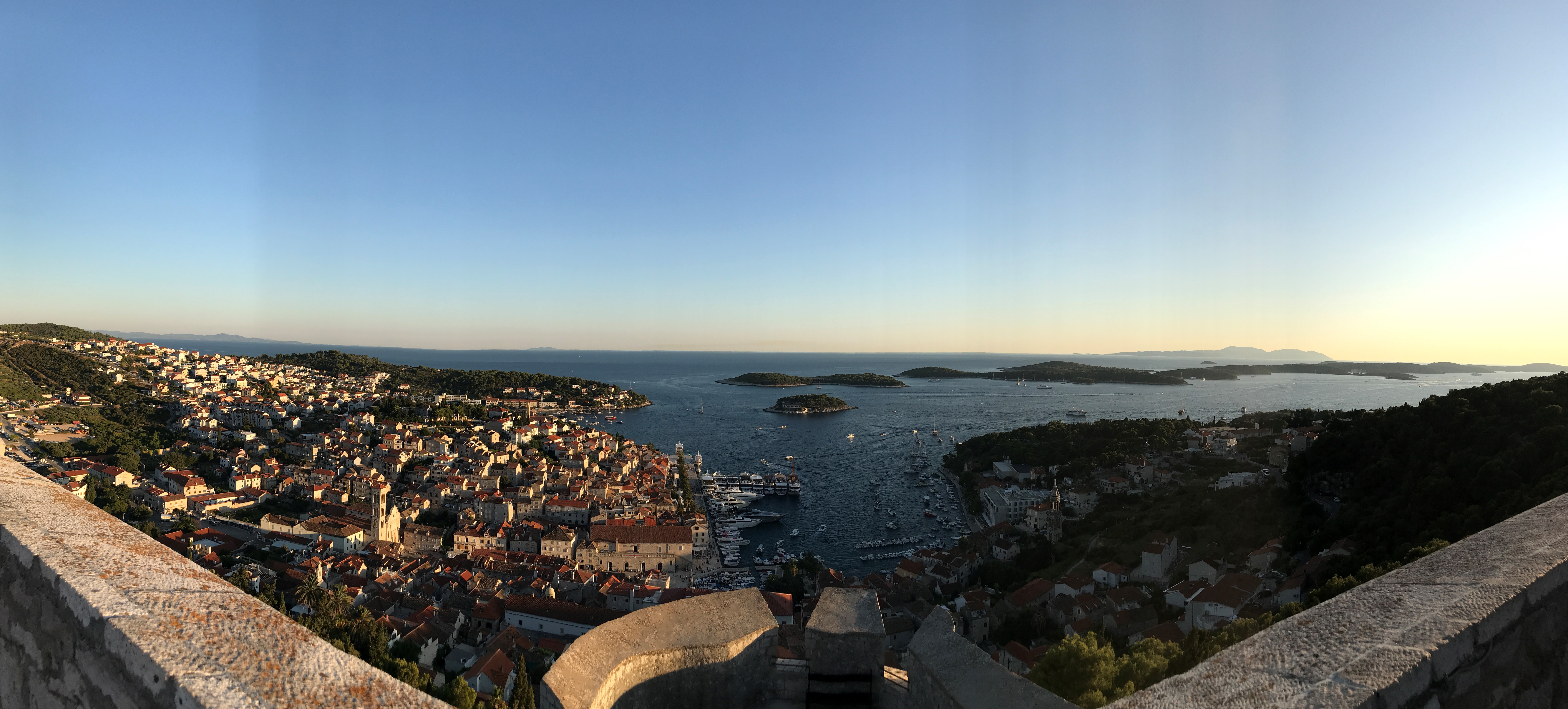 The most touristic destination is, very likely, not your dream-holiday destination.
In my last travel-related post I wrote about the one-day island tour that Felix and I completed and then focused a bit only on the history of and my experience in Stari Grad. If you want to catch up, you can do that here: Exploring with the one you love and loving what you are exploring. Now, it is time to write a bit about the port town of Hvar – the biggest and most touristic town on the island of Hvar.
My whole experience in Hvar can be summarized in one sentence. Hvar is a madhouse! Here is how I can justify this statement. Hvar is an ancient town gone wild. It is flooded with luxurious yachts, overpriced restaurants, and fancy, over-the-top expensive shops that claim to sell either unique, hand-made jewelry or organic cosmetics produced out of hand-picked local herbs. If this is truly the case – no one knows. Trying to simultaneously attract young and elite clientele, Hvar has transformed from a monumental town with a distinctive and well-preserved architecture into an open-air shopping mall by day and a crazy party site by night. It is truly devastating to see how the wish to bring money to the town has suppressed Hvar's most important trademark: its spirit. Do not get me wrong, I have nothing against ancient towns being modernized in a reasonable amount in order to attract wealthy people. What I mind is when these endeavors fully mask, if not erase, the authenticity of the place.
At the same time, the town is trying to somehow maintain the order and motivate the people to get out of the cafes and learn a bit about Hvar. Regarding the first point, the local government tries to keep Hvar under control by forbidding even the slightest inappropriate behavior – such as eating and drinking in public, or walking around in your bathing suit – and sets crazy high fines in the range of several hundred euros for such deeds! On the other hand, in order to encourage the people to explore the history a bit more, the tourists are also offered a free guiding tour which they can easily access by scanning with their cell-phone camera a QR code presented all around the town. The code takes you to the following free, walking tour and offers you short texts about each relevant site. The tour itself is quite nice, with the exception that maybe the order should be slightly different. I actually really liked how easy it was to access the tour and how I did not have to bother to go to a tourist info desk and ask for maps or booklets, so this is a huge plus for me.
Once you walk the above-mentioned tour, you realize that Hvar has actually a lot to offer, but only if you are able to stand the crowd, the heat, and the people who are trying to get you into their shop or restaurant every step of the way. Since the town was under Venetian rule for around five centuries (13th to 18th century), it displays a vast palette of renaissance buildings, monuments, and squares. The town's center is dominated by what is considered to be one of the most splendid squares in all of Dalmatia and by the Cathedral of St. Stephen which proudly steals your look each time you pass it by. Not far from the cathedral, you can find one of the oldest municipal theaters in Europe. Open in 1612, it is the crown of the many renaissance buildings and monuments in Hvar, and the only other site that could possibly compete with it are the city walls and the fortress Fortica (Spanjola). This excellently preserved stone castle can be reached by maneuvering many tiny streets, steep stairs, and hilly roads, but the hike is definitely worthwhile.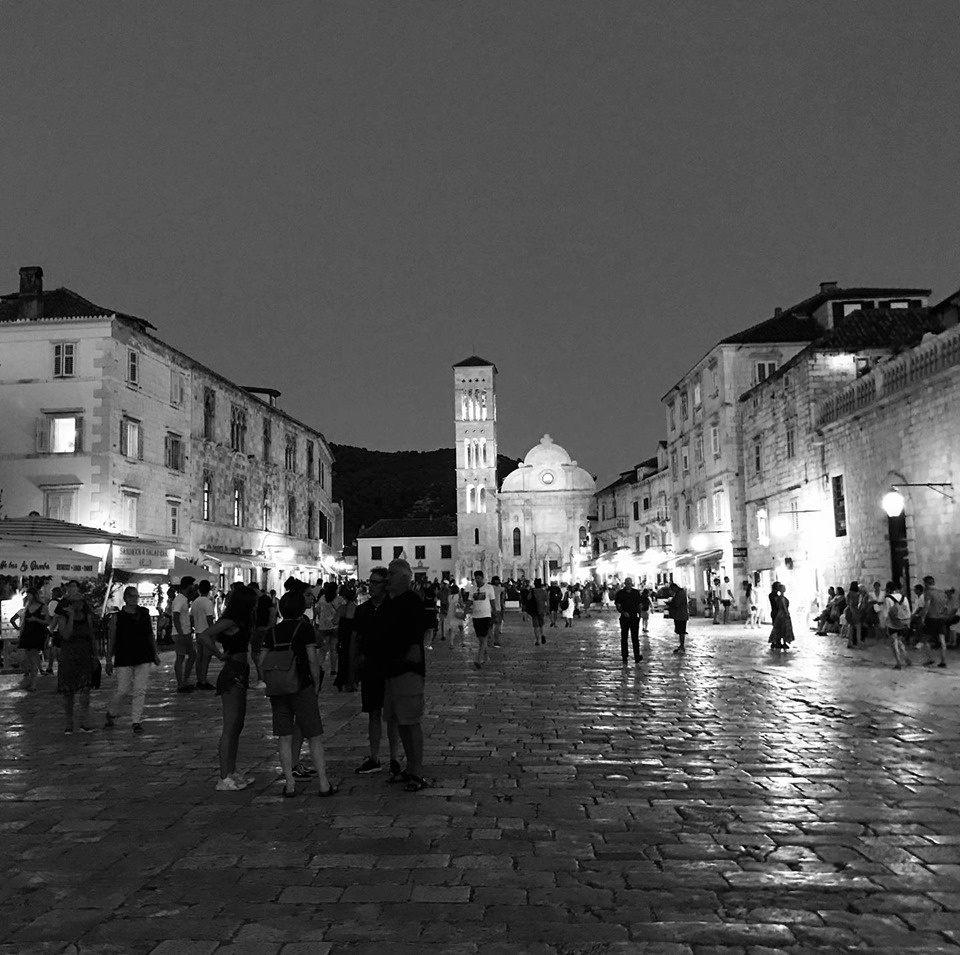 The clock tower (15th century) with the Fortica in the back, on the hill

On the way to Fortica
In full honesty though, it is not worth it to pay the 50-Kn (around 7€) entrance fee to the fortress. Both Felix and I agreed that the responsible institution or people for it should put more effort into informing the people what the fortress is all about and offer more entertaining and educating content inside. Once you enter the walls, you can visit an underground, claustrophobic prison, but you would probably not get an idea who was imprisoned there and why these people were not kept in a jail somewhere in the town; one-room museum with some artifacts from the bottom of the sea – remainders from ship wreckages; and a cafe. You are left with these "attractions", the stone walls, and yes – a truly amazing view – probably the only point that is trying to convince you that paying the entrance fee was an okay decision.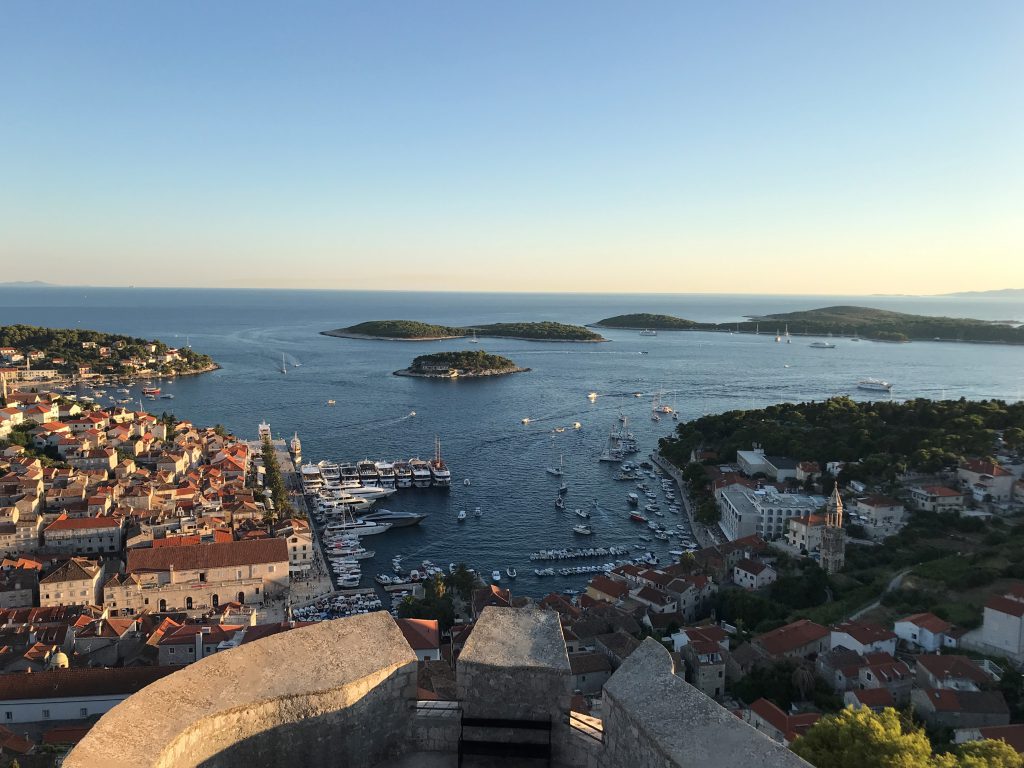 However, you can also admire the view from outside the fortress, and I actually think this is more pleasant than going inside of the fortress. Outside of it you have a big botanical garden with comfortable benches and generous shadows that provide the best resting spot for your tired legs and half-burned skin.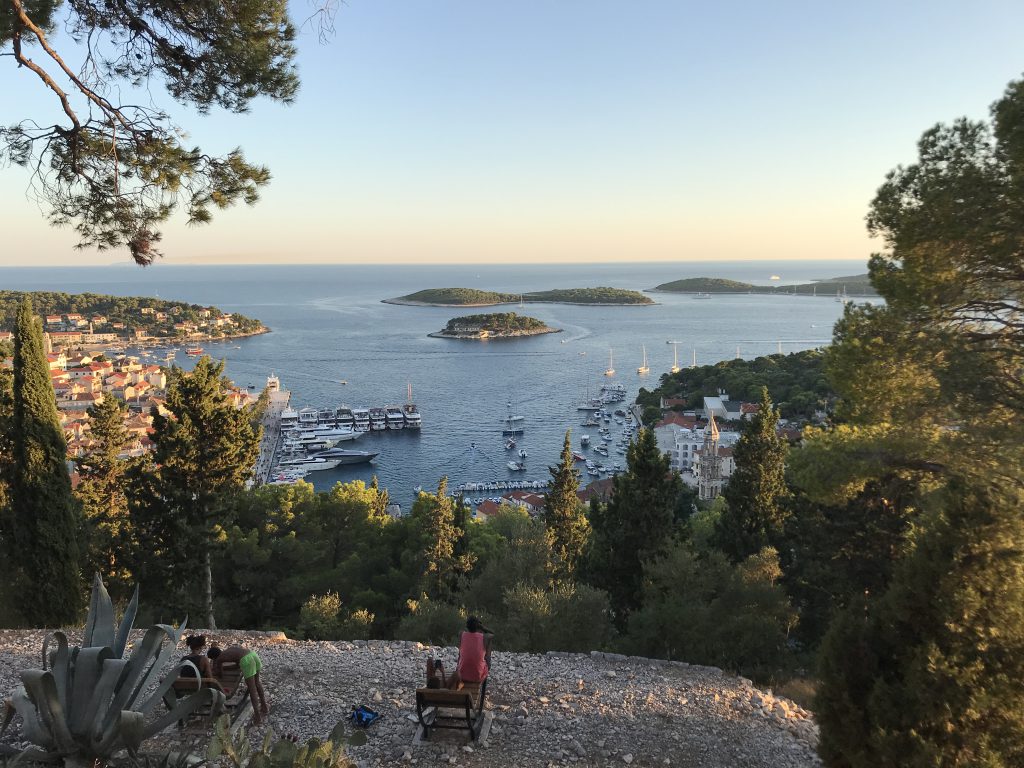 Nevertheless, none of these upsides can mask the fact that I did not enjoy Hvar at all. The crowd, the noise, the nowhere-to-be-seen beach, the chaos… they all exhausted me. I got physically sick and emotionally drained. This visit was probably the only part of my holiday that stressed me more than it relaxed me and I was so relieved when I was finally back in Jelsa – a much smaller and nicer town than Hvar.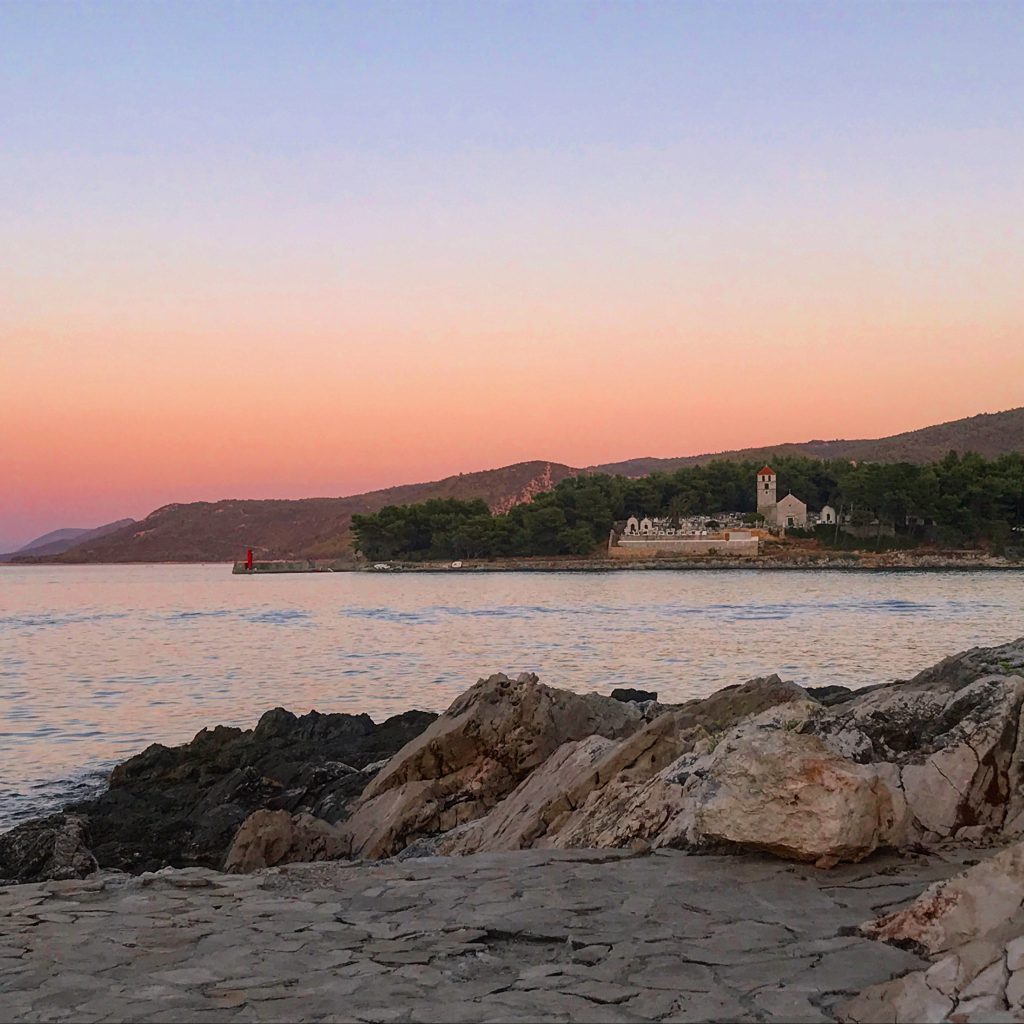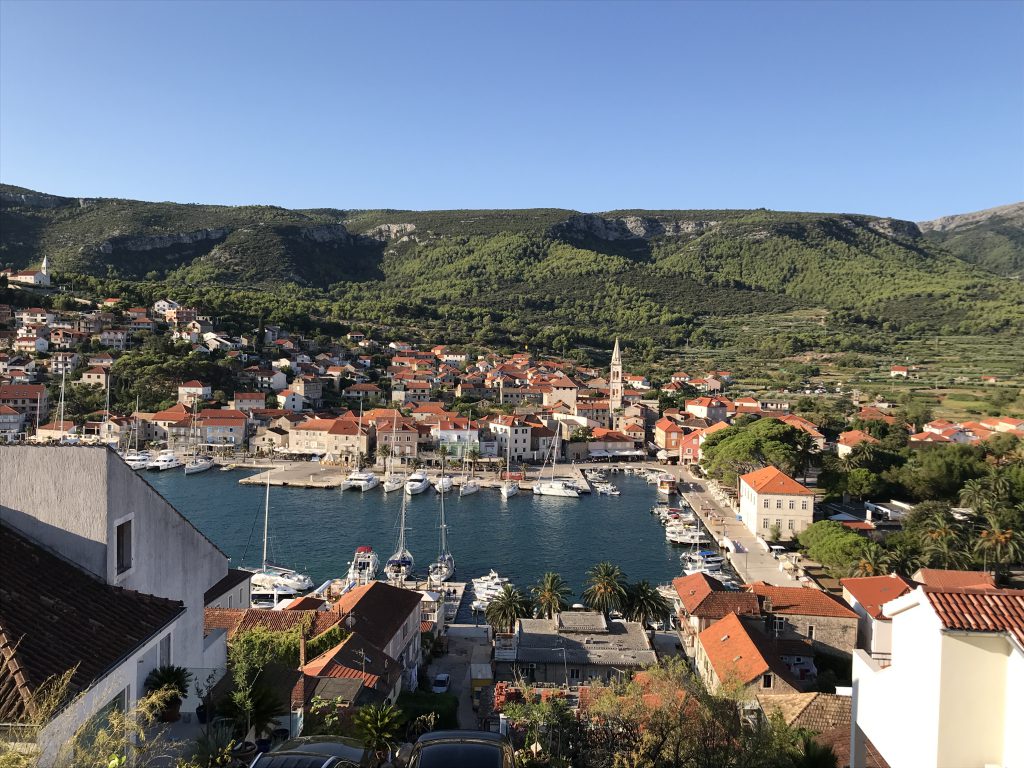 In Jelsa, I hurried to greet my newly-made friend. She was a woman in her late seventies, maybe even eighties, and this summer was the last year when she was selling hand-made souvenirs, mostly from lavender. I remember the first time when we met as clearly as if it happened just a moment ago. I noticed her days and days before Felix and I decided to stop by and buy something from her. Behind her stand, she had a big poster that was saying in many languages that this was her last year as a seller and because of this, all of the prices were lowered. The evening when we stopped by her stand, there was no one waiting in line. There was probably no one standing in a line for a while. When I said good evening in Croatian, she lifted her head up, gave us the broadest smile I have ever seen, and exclaimed a semi-loud "OH!" while clapping her hands together in an expression of simultaneous gratitude and happiness. This was probably the best and my favorite moment on my holiday – seeing that I can make someone so genuinely happy by merely offering my modest smile and saying "good evening".
We bought some souvenirs and since that night, I was stopping each day by her stand to talk to her. Throughout our one-week acquaintance, she shared a lot about her life with me. She is actually Bosnian and back in the days, during the war, she ran away to Jelsa. She said something that left a very strong impression on me. She said: "the war took everything from me, but it did not take my skill, my talent, and my wish to live an honest and fulfilled life. I am grateful each day for everything that I have: for my neighbors who help me, for God that keeps me safe, and for all the love in my life that enables me to grow. I need nothing more."
And truly, does anyone of us need anything more? Throughout gratefulness and love – we grow, throughout overcoming all the nasty experiences in our life – we toughen up, throughout sharing and bonding with people – we live up to our full potential. Going back to more ordinary matters such as your holiday, the same laws apply. You do not need the most Instagram-shared location, or the most tourist-flooded place, or the most expensive restaurant, in order to create your best vacation experience. A true vacation is one that calms you down and rests you well, that clears your mind and nourishes your body. It should not be just another check mark on the World map. At the end of the day, you will always remember how you felt somewhere, and if you are lucky, you might also remember for a long time what you saw precisely. I will most likely forever remember the lady in Jelsa, while by next year sadly I will not be able to even describe you in abundance of details the cathedral in Hvar. And is this good or bad? That we forget renaissance art to keep space for the experiences that caused a spiritual renaissance of a sort for us? Or is it just how things naturally happen and how we get to know ourselves?
Trust me, the most touristic destination is, very likely, not your dream-holiday destination. Spend some time to understand before you plan your sweet escape what you want to get out from it and what makes you feel truly at ease and only then start booking your trip. I, for example, might go back to Jelsa one day to meet my friend again, spoil myself wit long beach sessions, vivid sunsets, and tasty food. I will make sure I stay away from the crowd – it is crowded enough in my mind anyways. 🙂