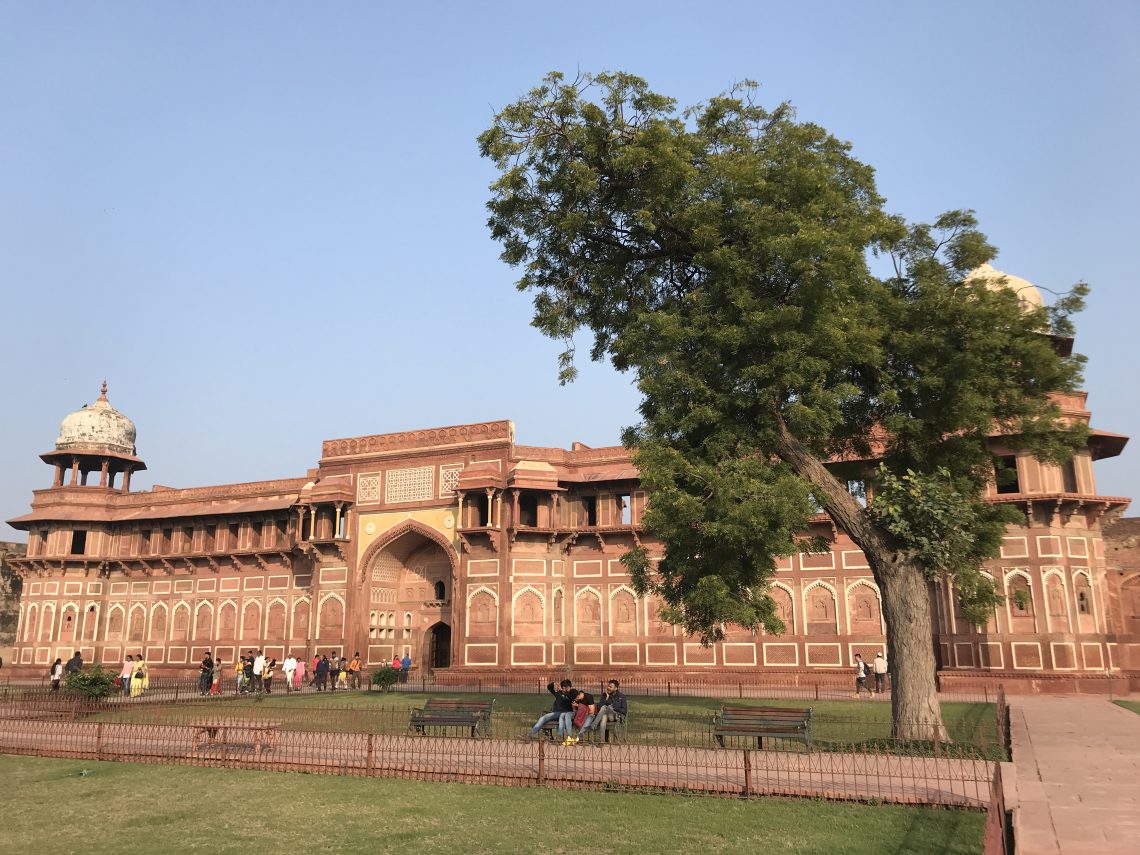 Welcome to Agra – the home of the great Taj Mahal
"Welcome to Agra – the home of the great Taj Mahal." – says the co-driver in the taxi we are taking to our accommodation. We thank him and ask him what has happened to his arm, after we notice an injury. He says: "I live in a village near by and I was riding a horse in the fields. Then, cobra came. You know cobra? And cobra bites me". He says that so casually, as if he meets and chats with cobras on a regular basis, that Felix and I look at him and wonder if he is high or just joking around with us. I smile and think: welcome to India, indeed. Cobra bites must be an essential part of one ordinary afternoon.
Truth be told, we are a bit nervous. Not because we fear the encounter with cobras, but because our trip starts in a bumpy way. This was our plan: at 6:25 we leave New Delhi and take the train to Agra. We arrive in Agra at 9:00 o'clock. Since we have purchased an Indian sim card, we order an Uber (which works surprisingly well in India) to take us to our accommodation.
This is the reality: in Agra everything digital is blocked. We cannot use our credit/debit cards or the internet. The protests against the Citizenship Amendment Act have expanded and escalated and the Government has prevented communication in some states. Uttar Pradesh – the state where Agra is located – was one of them.
I fear that Agra will be violent and disorganized. Yet, the city feels surprisingly cheerful. People are in distress because their businesses are suffering: tourists – the main source of income for Agra – cannot confirm bookings, cannot pay by cards, and cannot order taxis; yet the locals continue to live their life with certainty that although not ideal, this situation is only a temporary one. I do not feel threatened, since I do not notice any violence around me. Still, I switch my mind to a Math mode. I try to calculate whether the cash we've got will be sufficient for everything we have planned.
Reaching "Baba Home Stay" – where we live like a family
I calm down as we reach our accommodation – Baba Home Stay. A wonderful couple and their lovely seven-year old daughter welcome us to their home and immediately treat as part of their family. They greet us with a wide smile, generous heart, and warm tea. There is an incredible serenity in their home. So much love. Unprecedented hospitality and care. Felix and I feel blessed for choosing this place as our home for two days and my body starts to relax once I realize that even without internet I will be just fine.
I quickly bond with the girl Fathima – as she shows me the house she has designed and built out of cardboard. She sits to eat lunch with us and her parents are so proud that she eats more than usual. Her father tells me: "she really likes you. Usually we struggle to make her eat, but now she wanted to sit and eat next to you". I smile and I encourage Fathima to tell me more about her friends, school, and life. I start to feel really sad because I am staying in Agra for only two days. Agra all of a sudden feels like a safe heaven. Still, all good things come to an end, but at least we can try to preserve them in our memories, through our words, or with our photographs.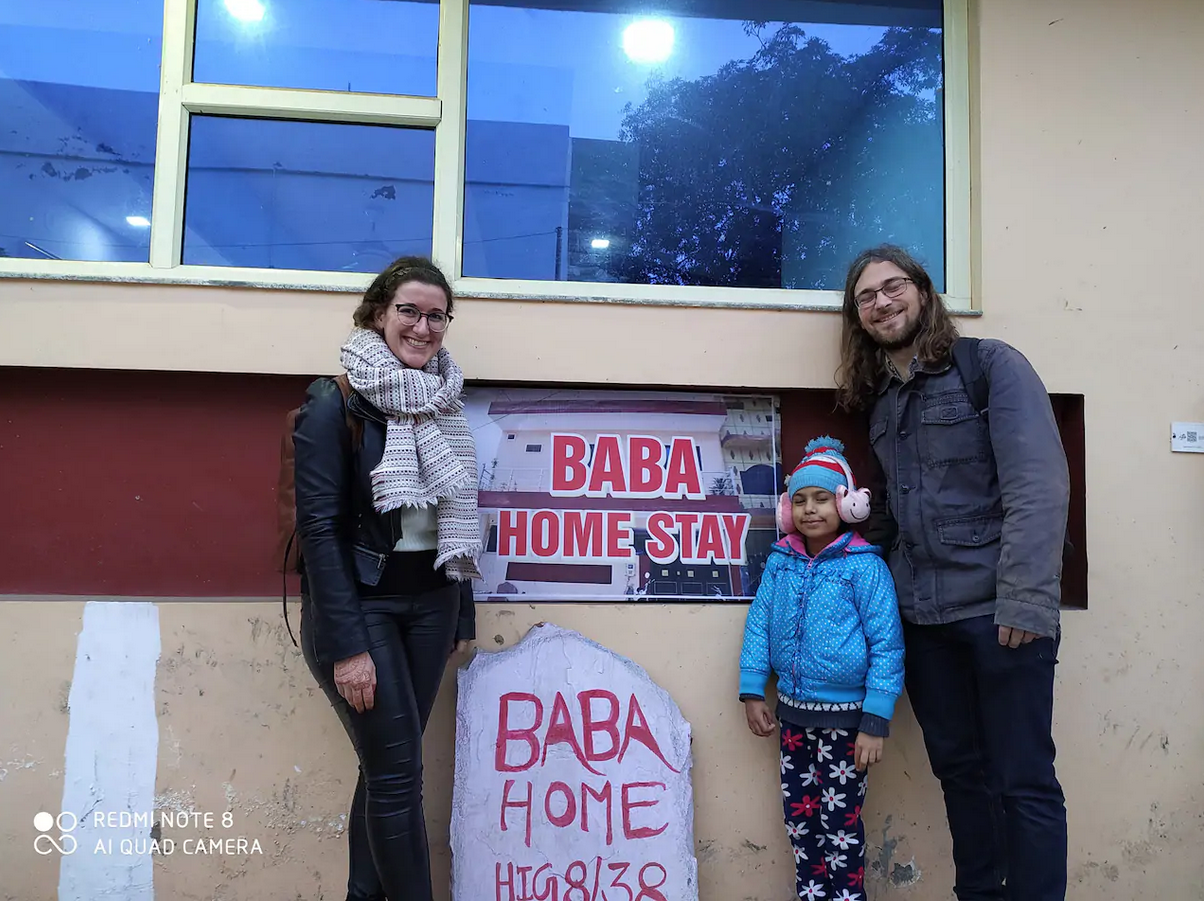 Exploring Agra – day one
Agra is so much more than just the Taj Mahal. It is the home of three world heritage sites: Taj Mahal, Agra Fort and Fatehpur Sikri. On our first day in Agra we decide to visit three mesmerizing locations: Agra Fort, Baby Taj, and finally the Mehtab Bagh. We reserve the second day for the grand Taj Mahal and the 40-km distant Fatehpur Sikri.
Azdar – our host at Baba Home Stay – arranges an auto rickshaw for us so that we can explore the sites peacefully. Well, peacefully is a funny word choice, since anything out of an Indian Temple is anything but peaceful. Yet – once again – Felix and I are so lucky: our driver Azeem is so professional and kind that we soon start to think of him as our friend.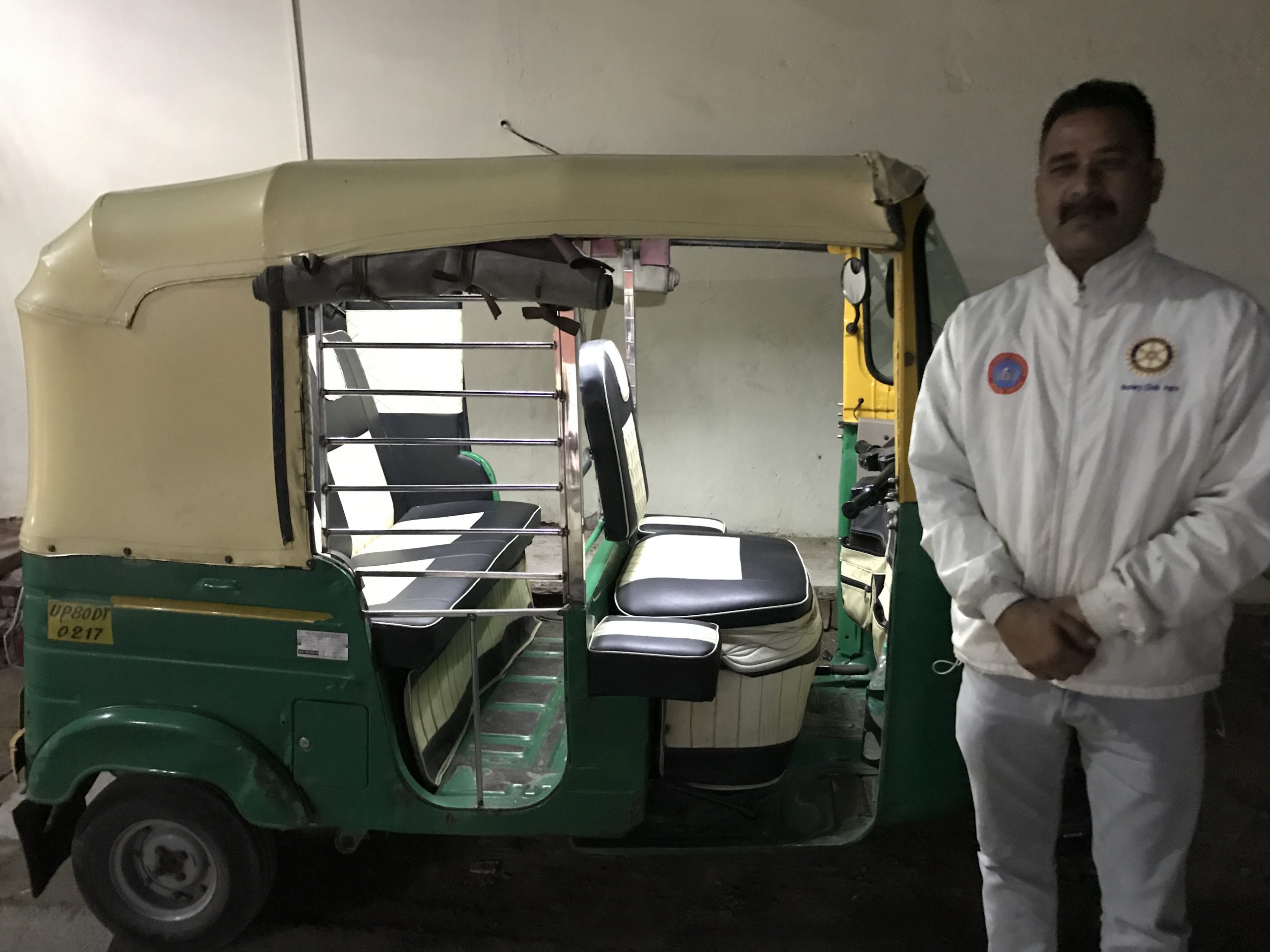 He jokes that we need to get married in Agra and have a wedding with 2000 guests, while we say that if we do that he will be our guest of honor. He drives us safely around the city, even though we make crazy turns, cars are honking from all sides, and dogs and cows get priority to pass the roads. I know that Indians drive on the left side of the road, but I fail to see where are the lanes. Everyone somehow positions themselves everywhere and anywhere.
Yet, Azeem tells us not to worry. He relaxes us by telling us how proud he is to be from Agra – the home of the great Taj. As he is driving, he talks about the local people, customs, and food. He compliments my smile, Felix's hair, and our compatibility. He encourages us to explore without stress while he is waiting for us to take us to the next stop. At first, we feel a bit bad for letting him wait, but with time we see that he is actually happier when he sees us enjoying. People are like mirrors: when you are happy, they reflect your happiness as well.
First stop in Agra: Agra Fort/Red Fort
If you ever visit India, be aware that at every popular site you will be "attacked" by the following: locals who want to take selfies with you, "tourist guides" who have no idea what they are talking about, but want to get your money, and people who sell anything you could think of and start to follow you around even if you glance at the sold goods for a mere second. None of these bother me, but I was relieved to find out that Agra Fort was a little bit calmer. One "no" was usually sufficient and surprisingly – the site was not very crowded.
I hope the smaller number of visitors was because of the protests, not because the tourists avoid visiting this magnificently well-preserved fortress from the 16th century. This red sandstone fort was the main residence of the Mughal Empire until 1638 when the capital was shifted form Agra to New Delhi. Fun fact: Shah Jahan – the ruler at that time and the one who approved the construction of the Taj in the honor of his beloved  wife Mumtaz Mahal – moved the capital to New Delhi because he found Agra too crowded. I wonder if he ever expected that Agra would one day become merely a small town compared to Delhi.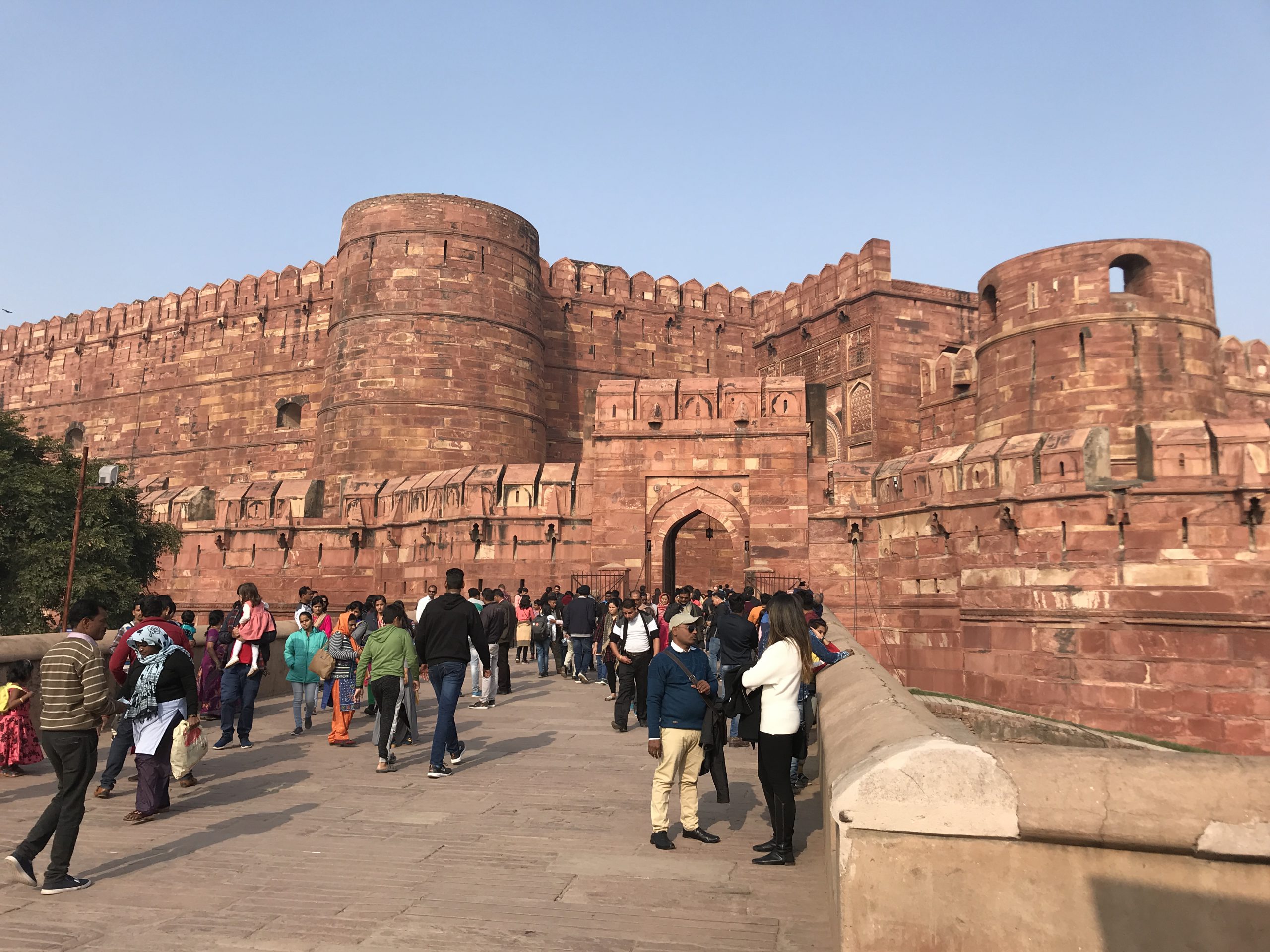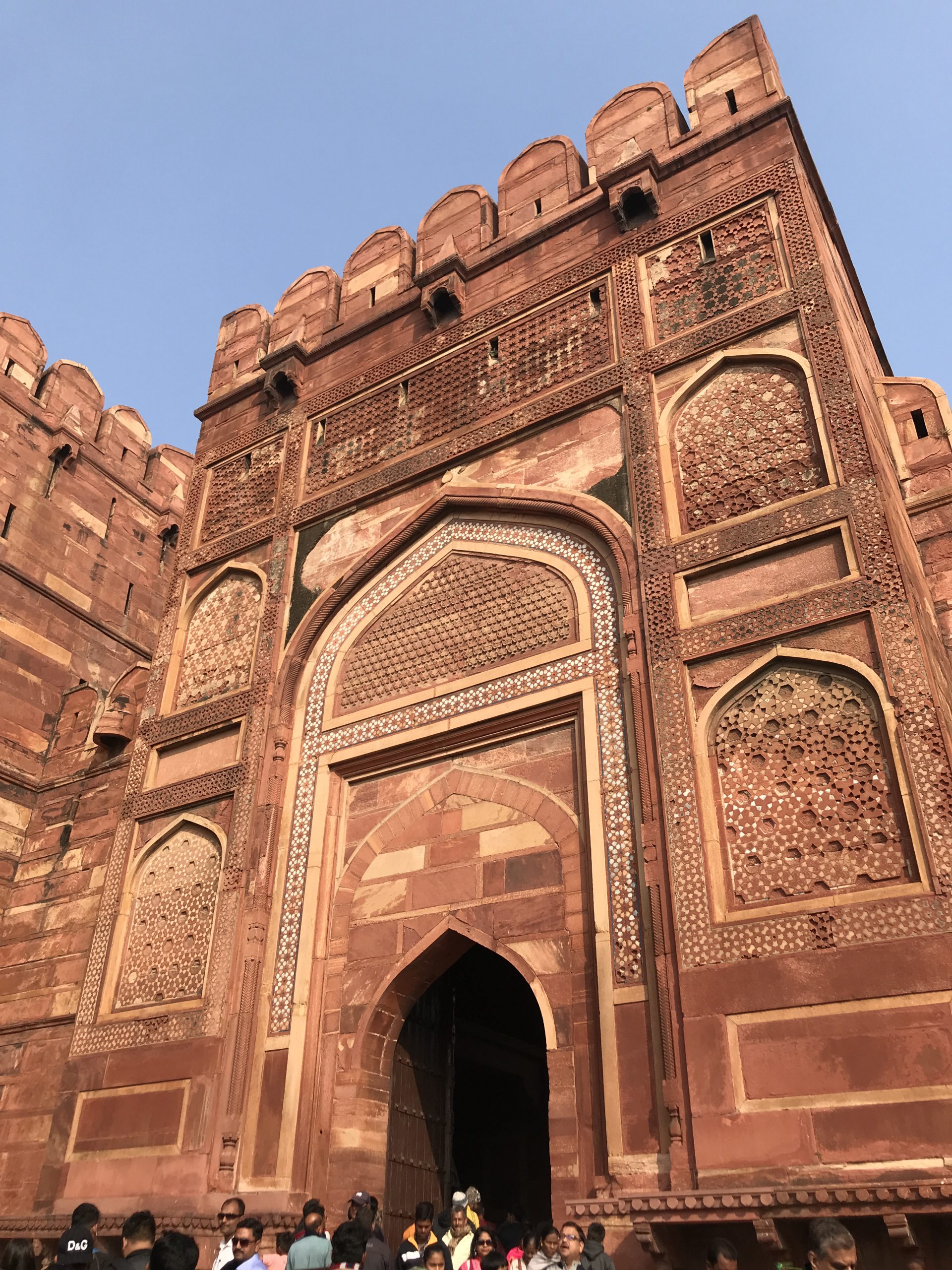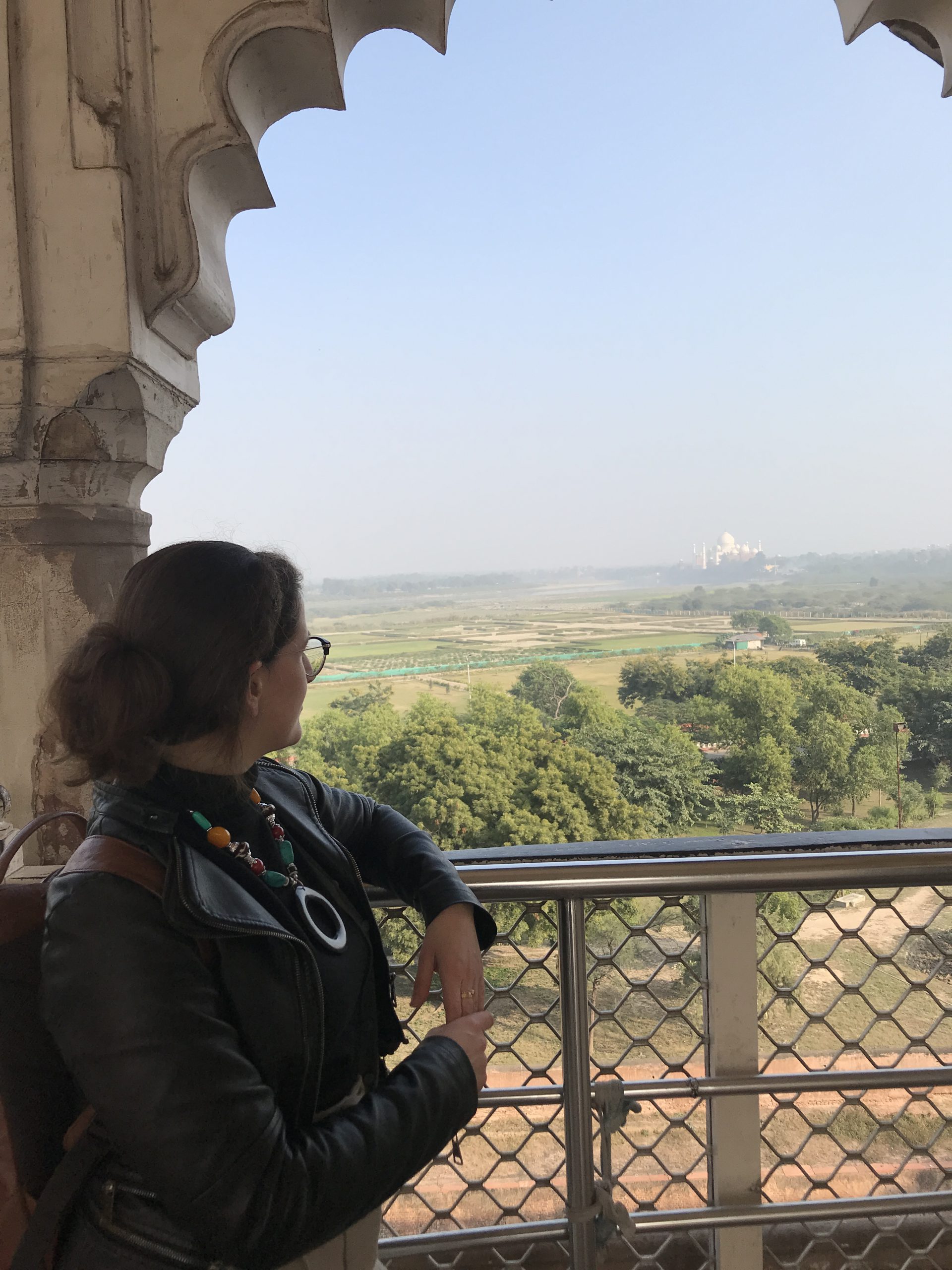 Second Stop in Agra: Baby Taj
We continue our trip by stopping at the Tomb of Etmaduddaula or better known as Baby Taj. We love exploring this small, yet culturally-abundant, perfectly symmetrical monument.
I am in love, borderline obsessed with, symmetries. There is a certain harmony and tranquillity behind well-positioned and well-ordered spaces amid the chaos of hectic cities. The Baby Taj provides precisely this harmony and you feel it as soon as you pass the main gate and see the garden divided into four perfect quarters.
The main attraction is the central piece: a white-marble tomb which faces the central arch – a lotus tank with fountain. The most important aspect of this tomb is its polychrome ornamentation. Designs in floral, arabesque, and geometrical styles decorate both the outside and inside parts of the tomb. Same as in the Taj, Baby Taj has no painting on the walls. Instead, the decoration is merely by semi-preceous coloured stones which are "buried" into the marble, creating an illusion of painting.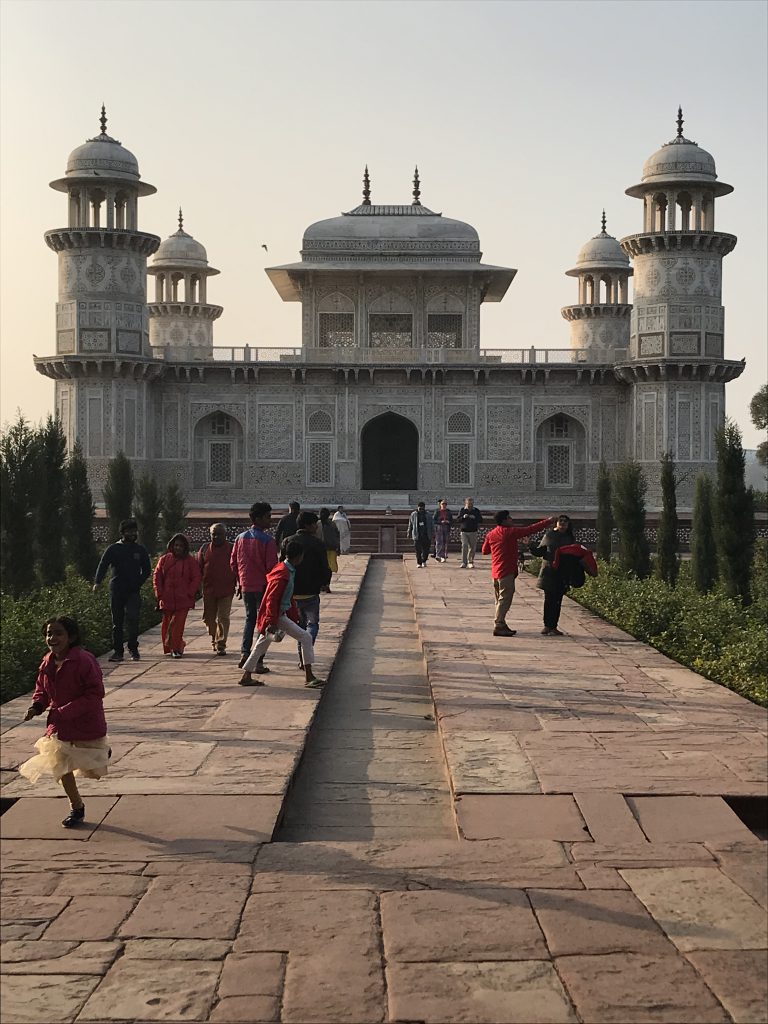 Third Stop in Agra: Mehtab Bagh
Mehtab Bagh is actually a park which offers a splendid view on the Taj Mahal. Locals recommend it at sunset for a wonderful view on Agra's most praised and beloved treasure. The reason is simple: marble – the building block material for the Taj – is a translucent material and when the light during sunrise, sunset, or full moon shines on the monument, the marble shines in all of its glory. However, since the pollution and the fog are dominating during our visit, we fail to enjoy the breath-taking experience. Nevertheless, we see a burning sunset and do not regret our decision to be at this site at this time – as many other tourists and locals.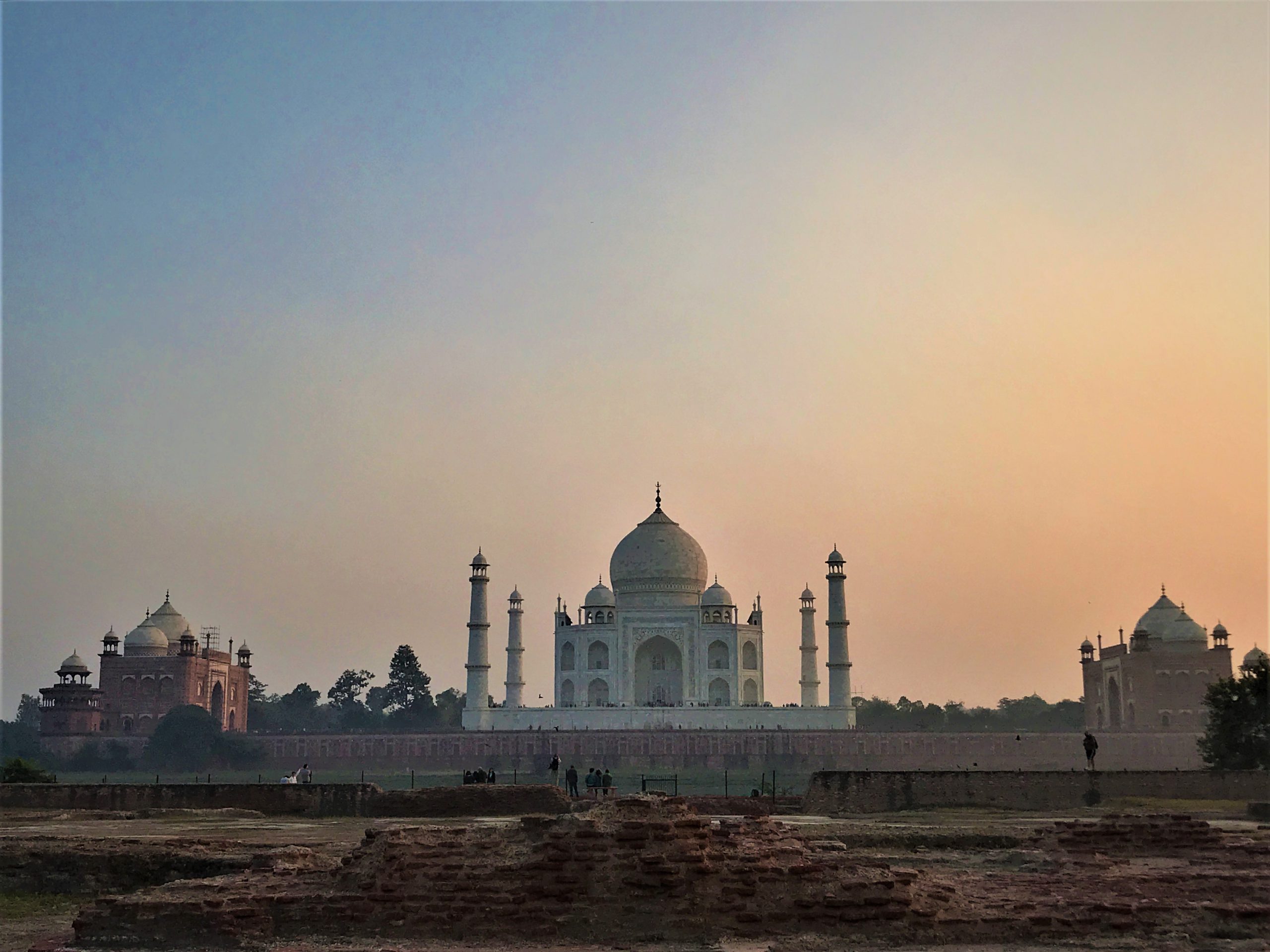 Back to "Baba Home Stay" – an evening with Indian tradition
After sunset, Azeem takes us back to our accommodation where the dinner is waiting for us. A vegetarian feast with rice, vegetables, roti, sauces from/with beans and many more delicious dishes indulge all of our senses. We eat and talk for quite some time, when Azeem asks me: "Ivona, would you like some henna on your hands? My wife is really good at drawing. We can also give you traditional Indian clothing". As I get transformed from my ordinary self to my Indian version, I feel so happy that I do not know how to properly thank my hosts.
I keep on saying I do not want to bother them, but they see how much I glow with joy and they just keep on giving. These follow: jewellery, bindi, nail polish, and finally the offer that I wear the sari at my Taj Mahal's visit the next day day. At first I reject, out of politeness, but also out of fear that I might damage the lavish green-gold sari as I walk through the crowded site.
They insist I change my mind.  They add: "how about make up? Do you want some Indian-style make up for your visit to the Taj?". I say the henna was enough, it already took a lot of time, but I wonder if I am being polite or being rude. The first rule of visiting a foreign country is: do not assume that your standards hold wherever you are going. Let yourself to become a cultural river – flow into the new environment by avoiding the barriers in your mind, set by stereotypes and prejudice, and surrender yourself to the rich sea of the new culture.
If you want to find out if I merged into the Indian cultural sea of colors – stay tuned. My next post will be about my visit to the Taj Mahal and Fatehpur Sikri.