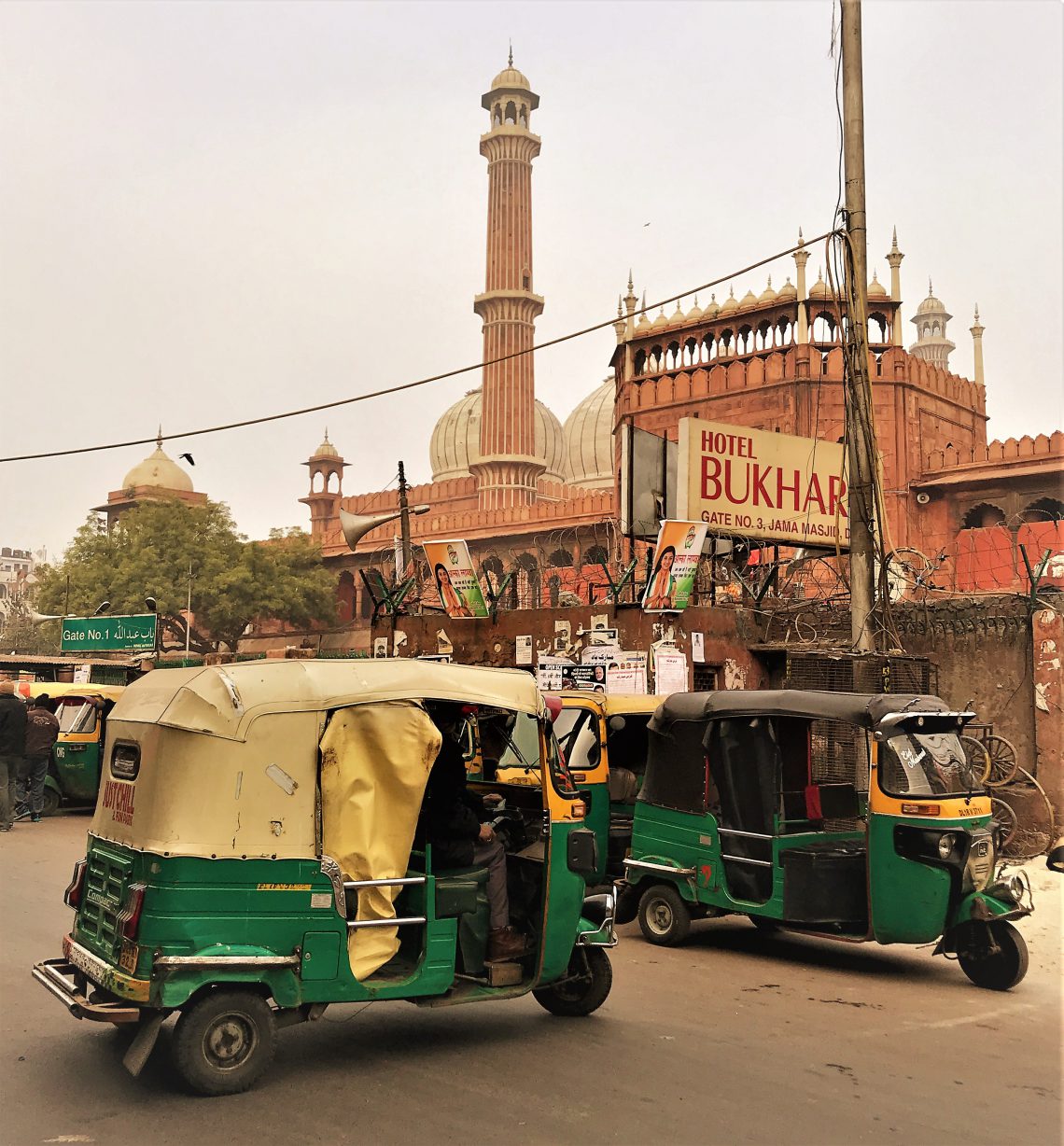 A whole world in one city: Delhi, India
Felix and I are exiting the express metro that takes us from the airport to the city of Delhi. I am trying to not be overwhelmed by everything around me. My brain tries to sort it all out: the noise, the cars honking, the cows on the road, the rickshaws that avoid me a second before hitting me, the beggars, the sellers, the restaurants, the hotels, the smells, the colors, the spices, the cooking steam.
I sink into the crowd, slowly loosing myself in it. I try to focus on the rhythmic noise of the wheels of my suitcase as I rush through the stampede of people who offer me something. "Ma'am are you looking for a hotel?" "Ma'am we have the best food here." "Good evening ma'am look at this jewelry". I just want to sleep. "Felix, are we there yet?" – I ask almost intoxicated as we keep on finding our way trough Delhi's most crowded area. The one where the locals go.
It is a whole other experience to be in a crowd so big, but not a crowd on an event like festival or concert. On a first look, the hundreds, if not thousands of people, look like a single, uniformly-breathing ecosystem. However, once your senses sharpen, you realize that one ecosystem in Delhi consists by no more than three to five people. It changes every few steps you make. One stop – one world.
As you walk by the colorful shops and busy markets and narrow streets and lavish temples – you realize that the crowd has its own language. I do not mean language like English, or German, or Hindi. It is more like a distant echo in the mountains, or a mixture of music beats from bars on a beach. The streets are filed with some kind of whispers – angry ones, happy ones, inviting ones – but together they remind me of humming birds or buzzing bees. All the words vanish in the air. We are left with a cocktail of sounds and letters, while all the individual emotions and messages are lost. We are left with: welcome to Delhi, the queen bee of the hive called India.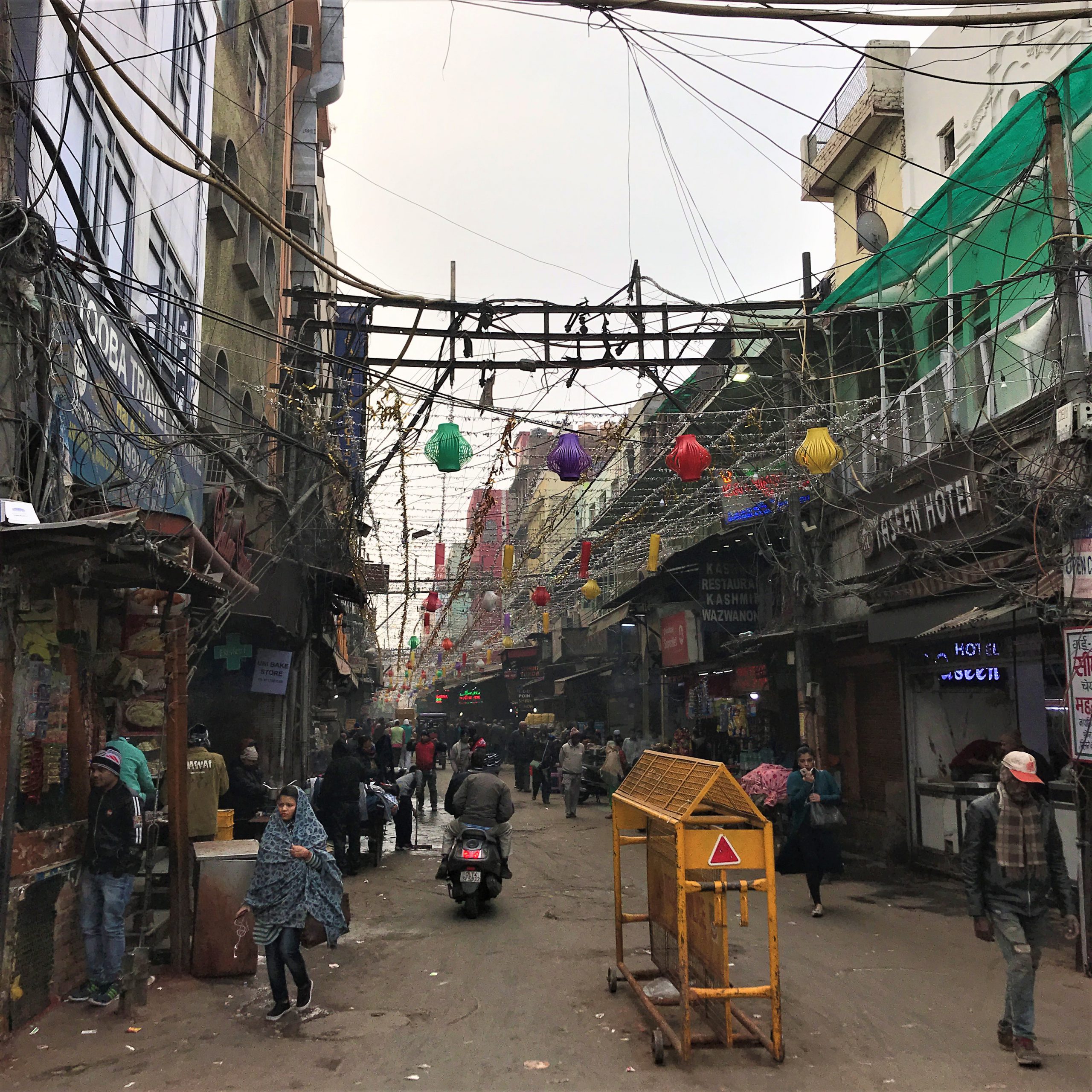 What can you expect in New Delhi?
Nothing! By saying this, I do not mean to say there is nothing to see in Delhi. Quite the opposite actually. There is so much to see, do, and experience, that any expectation that you might have will not be met. I really believe that the real-life experience will be a whole new level.
You can prepare for days, weeks, if not moths for India and Delhi, but the truth is that cities like Delhi will affect each person differently since there is nothing uniform in Delhi. You either decide to merge with the crowd and with the changing scenery; or you will end up suffering.
India's capital is a home to almost 22 million people. It is divided into six parts: North, South, East, West, Central, and Old Delhi, and to truly explore all of these parts you probably need several months, if not a year. We were staying in Paharganj which for the cost of affordable and acceptable accommodation offers chaotic streets. Only two kilometers away from it is Connaught Place (CP). As of 2018, CP is the World's ninth most expensive office location, while Paharganj still drowns in garbage on the streets. The contrast is shocking.
Architecture in Delhi
The architecture is as equally as versatile. The sites change their style not only at Connaught place and Paharganj, but through every neighborhood and touristic destination. You can marvel the lavish remains from the Mughal empire, but also notice the British influence by visiting the India Gate or the Parliament. This blend of old and new, religious and royal, messy and grandiose – truly paints a picture of a micro-World within a city. Everything that we travel the World for, we find in Delhi.
Temples in Delhi
Although predominantly Hindu, Delhi also has Muslims, Christians, and Sikhs; as well as some Parsis, Buddhist, and Jews. Visiting the temples where the people can practice their religions is probably the most fun activity you can do in Delhi. There is Sikhs temple of Gurudwara Bangla Sahib – a temple which at first sight it portrays royal-like appearance, but inside it offers pleasant music and absolute serenity.
Felix and I really loved the ISKCON Temple in Delhi. Dedicated to Lord Krishna, it is like no other temple you have ever seen. There are kids running and playing games inside. People singing joyful chants, while playing on small drums. The air is filled with so much joy and happiness, you forget about all of your worries for a second. I even forgot to take pictures or to film anything. You are welcomed in regardless of gender, race, or age. You should only take off your shoes (as in most of the temples in India). We wrapped up the night at the temple by visiting their restaurant and enjoying their all-you-can-eat vegetarian buffet.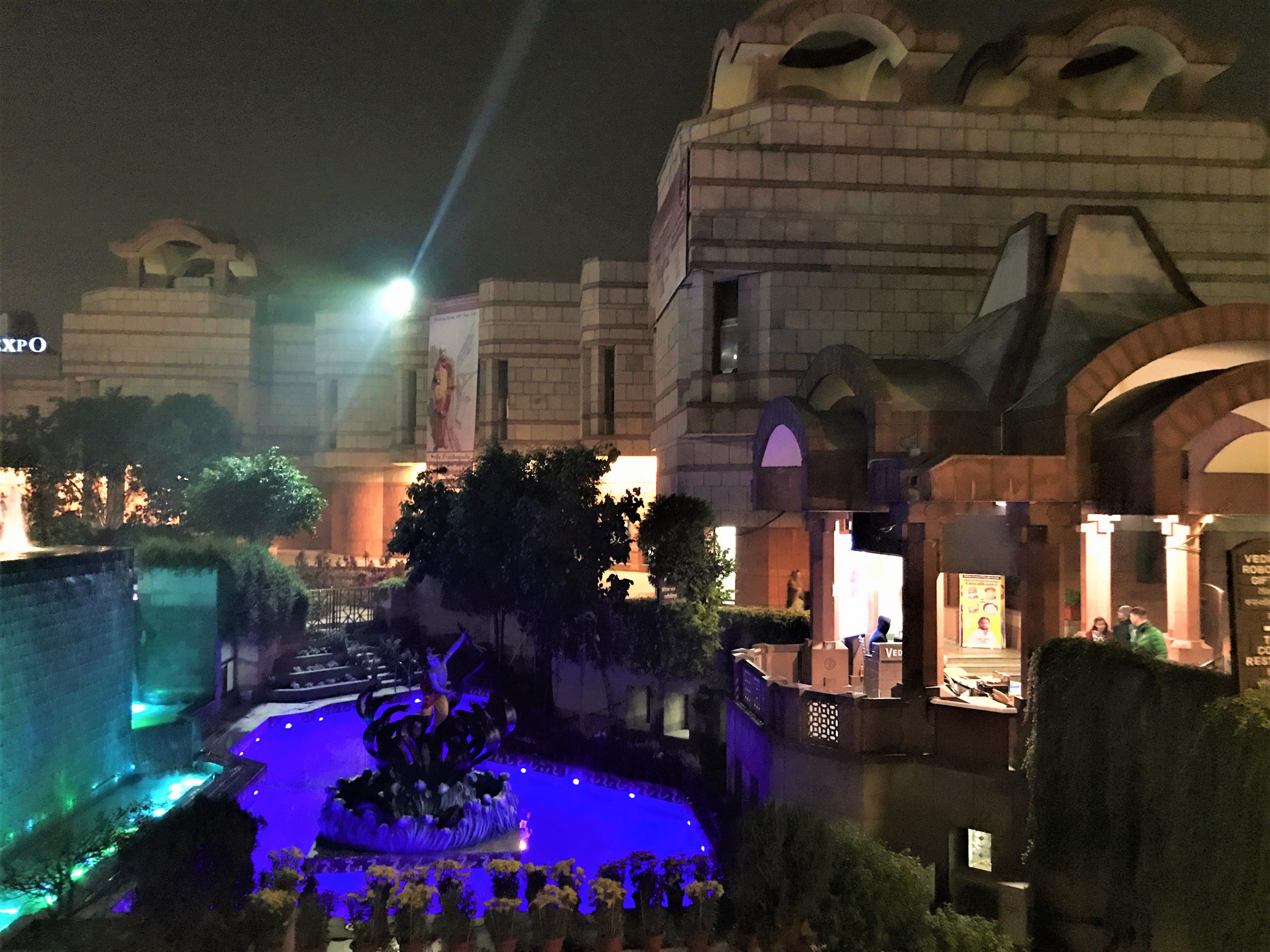 The Lotus Temple is also a nice visit, but somehow I did not click with it. Architecturally  it should resemble a lotus – the sacred flower in Hinduism. It symbolizes the potential of an individual to harness the flow of energy moving through the chakras. Another interesting temple is the Lakshmi Narayan Temple (Birla Mandir), Delhi. Built in 1933, it was inaugurated by Mahatma Gandhi in 1939. He set a condition that the temple should not be restricted to the upper-caste Hindus and people from every caste would be allowed inside.
When it comes to islamic temples, the Jama Masjid ("Friday Mosque") is Delhi's masterpiece and time-stamp from the Mughal times. It is a great place to visit at sunrise, but you have to walk without shoes everywhere – even in the courtyard. This can be unpleasant when the weather is cold, but it did not prevent us from admiring its beauty.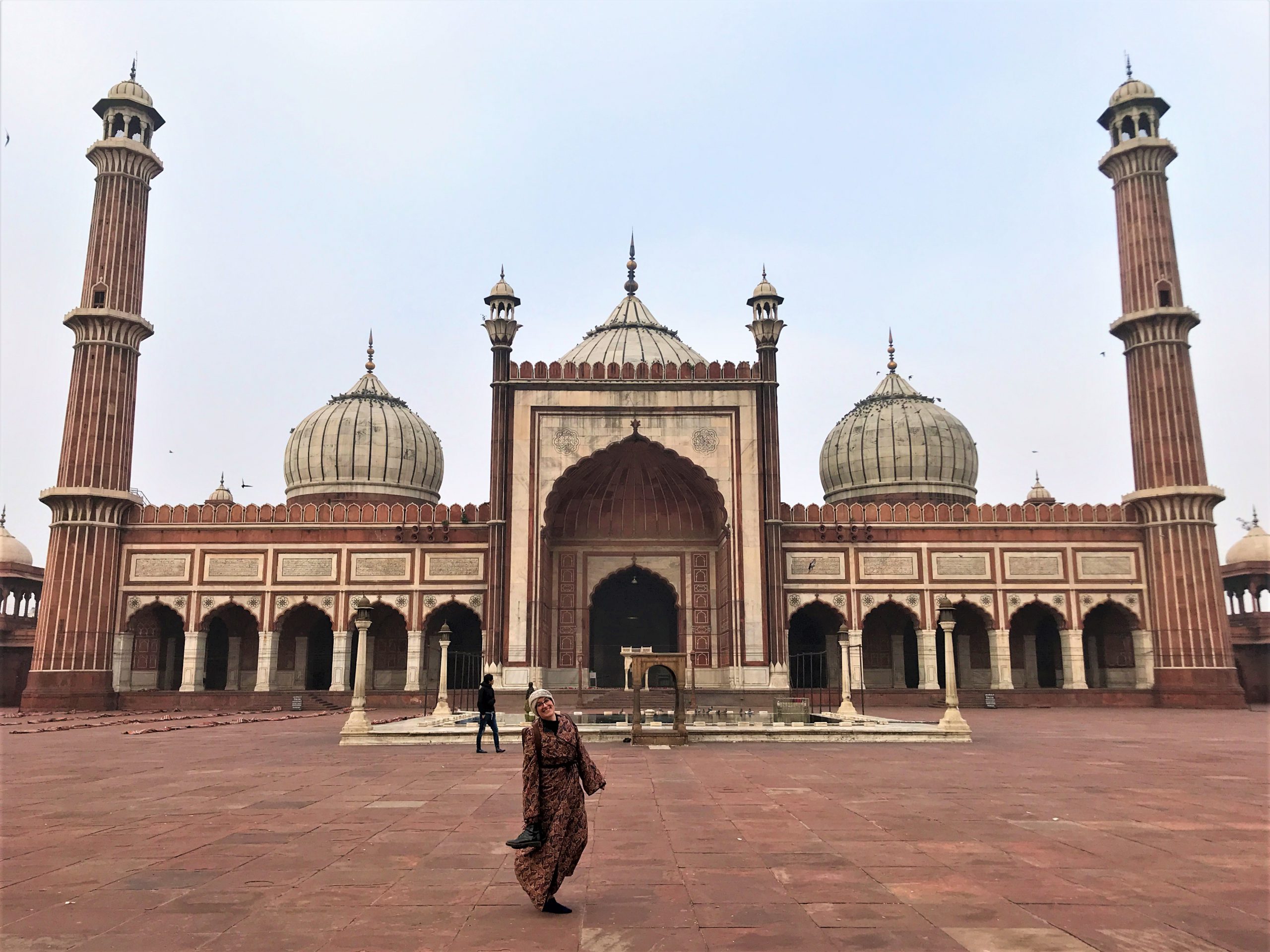 Food in Delhi
The food in Delhi is a Universe of colors, textures, and tastes. I am clueless about most of the things that we ate, since often the menus did not offer explanations. Additionally, the employees' English was too bad to explain us what we are eating. We were choosing randomly and each time we were surprised by the divine blend of tastes. At first, you think the food is not spicy. Few seconds later, a sensation of five to ten flavors starts to awaken your taste sense – from your throat to your stomach. Sweet, sour, hot, herbal – they all mix to create a culinary masterpiece. You feel truly blessed and lucky to taste this.
Our favorite places were: the Darbar restaurant – which offers different menu for lunch and dinner; then the Radjhani – where you can dine like a king; and finally, the dinner at the ISCKON Temple which I mentioned above. The Radjhani restaurant has no menu: you are all of a sudden "attacked" by ten people who serve you small doses of different dishes served on a thali – a round, steel plate. Not having to read a menu proved to be immensely liberating, since we did not have to pretend like we know what we are reading in the first place. 🙂
Would I visit Delhi again?
If I had the chance – definitely. I usually do not like to revisit cities, since I always want to explore and experience something new. However, Delhi can always offer something new. Most cities can – you would probably answer – but I just spent too little time in Delhi to feel like I got to know the city well. Moreover, I want to go back in order to merge more with the locals. Felix and I spent too much of our time visiting the city's most prominent monuments. Although the sight seeing was definitely worth it, we failed to drop by many of the markets, shops, and restaurants which I am sure we would have found charming.
Nevertheless, Delhi's Mughal's monuments are so splendid, that to miss them would feel like missing Delhi altogether. Because of this, I will be writing the next post about the four magnificent wonders of the Mughals: the Humayun's tomb, Qutub Minar, Jama Masjid, and last, but not least, the Red Fort. I have already written a bit about the Red Fort in Agra, but the one in Delhi also deserves some attention.
In case you want to catch up with some of my other writings in India, check out also the post about the Taj Mahal or relax with me at the beaches of Goa. Finally, if there is anything that interests you about India – do not hesitate to comment or ask. Until our next write-and-read – stay well and blessed. Namaste!