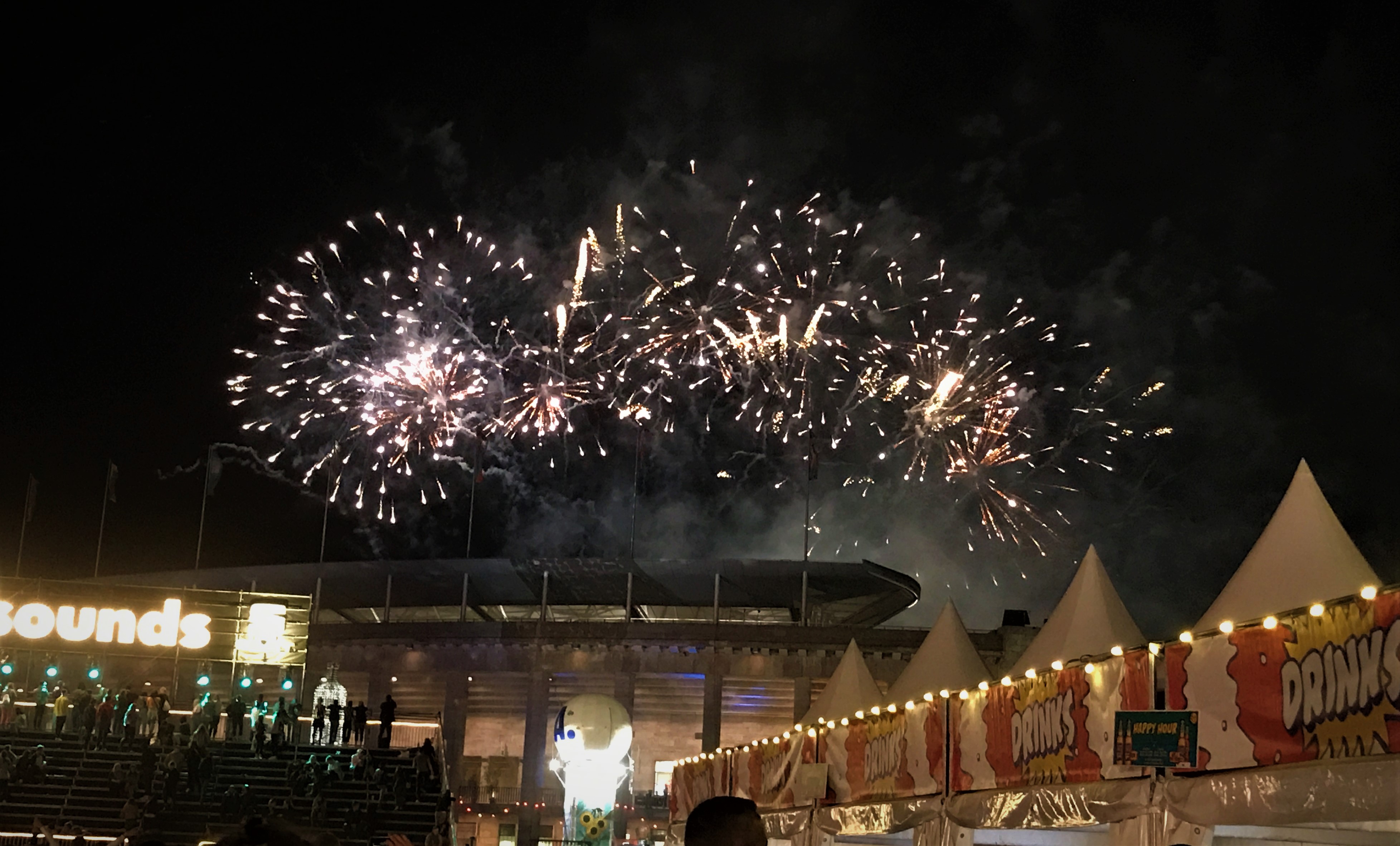 Lollapalooza Berlin: what can you expect?
GOOD MUSIC, EXCELLENT ORGANIZATION, LOTS OF COLORS AND SO MUCH FUN!
"We are here to show that live music is still alive. When you are listening to music by yourself at home, that's when you are fighting; but when you come to a show and experience that music with bunch of other people, that's when you are celebrating."

Tyler Joseph from 21 Pilots when performing live on Lollapalooza Berlin 2019.
On a scale from 1 to 5, where 1 is the worst, 5 is the best, here is a summary of my impressions of the festival.
Atmosphere: 3

– 5

depending on the performer

Music selection/artists: 3 – 4

but this is something extremely subjective, more than any other point on the list, and it varies depending on a person's taste in music!

Venue: 5

the Olympic stadium is a heavenly location for a festival!

Sound: 4

sometimes the bass was too strong, the sound too low, the microphone inaudible; but I know that working with sound on such a large open are can be tough, so it was all in all, still very good!

Choice of food and drinks: 5

Prices: 3

the entrance ticket is an okay price, compared to other festivals, but what you pay and what you get for the food and the drinks is a bit overpriced

.

Organization: 5

getting your armbands, entering, exiting, finding the stages – all easy and fast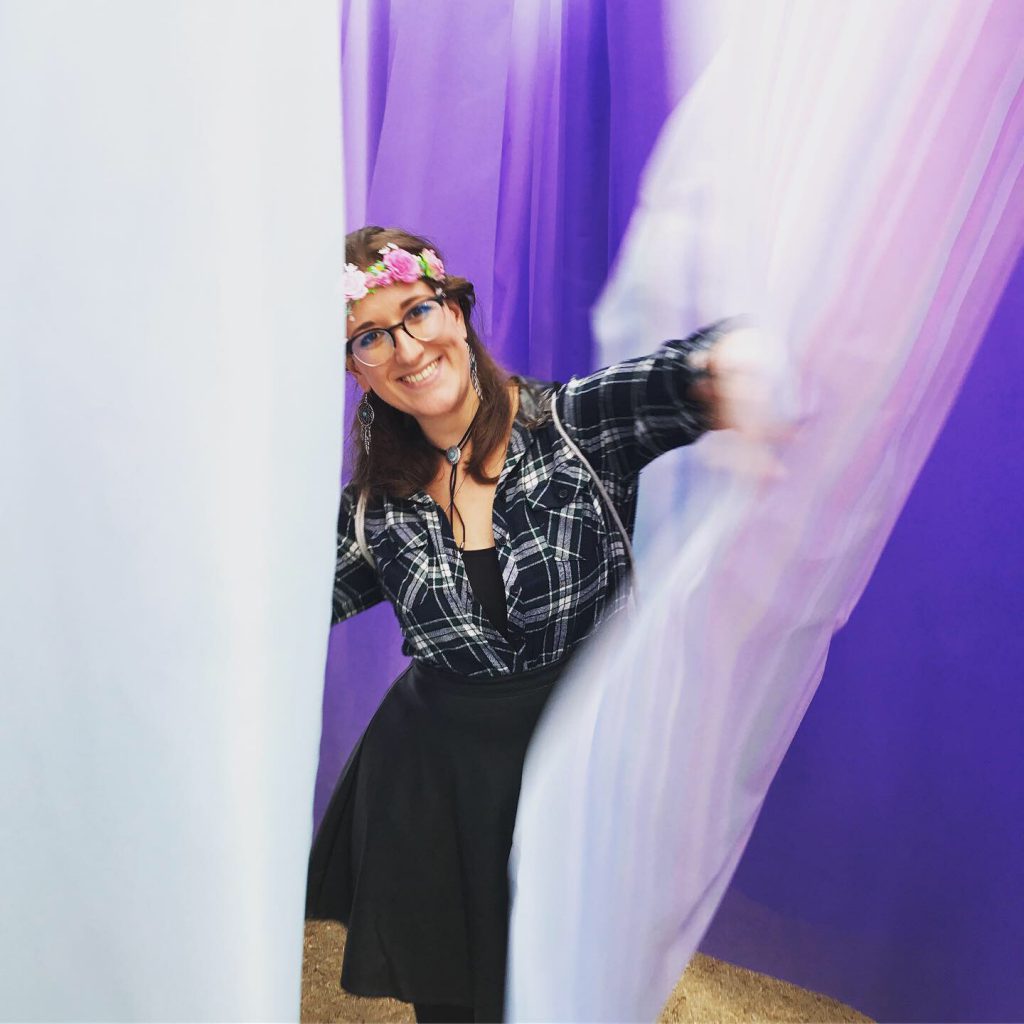 There is so much more to Hozier than "Take me to church", or to Kings of Leon than "Sex on Fire", or to festivals than instagram photos of fashionable girls with captivating make up and hair styling. Lollapalooza, a festival that originally started in Chicago in 1991, then spread over to South America, and finally reached Europe with its first show in Berlin, is an example of how a festival can amazingly celebrate music, but spice it up with fashion, art, sustainability, food, and above all – fun. The festival heats up the atmosphere mostly with (alternative or punk) rock, hip hop, or electronic music, but some other genres like heavy metal or even pop and R&B can also be heard. Lollapalooza now also offers the chance for non-profit, charity, and/or political organizations to set up their stands, but also encourages diverse spectra of visual artists to display their work and share their ideas with the visitors. Take a look at the pictures below that try to grasp the versatility and diversity at the festival.
a garden-like venue with comfy hammocks inside

mirror/art walls great for taking pictures

one of the capsules where you can visit some art or shop

fashion per kg

colorful curtains

place where you can listen to the music while seating

bar

bar

food truck

food truck

vodka/coctail bar

fashion truck

decoration

the cool spot 🙂
ferris wheel

the entrance of the green venue at night

a cozy bar in the evening
This was my first time visiting Lollapalooza. One day before the festival, I decided quite spontaneously to get my ticket and thus, sadly, my whole experience was not as "organized" as much as I would have liked it to be. Firstly, I was not excellently informed which artist was performing when and on which stage; and secondly I was clueless how much time I would need to explore everything that Lollapalooza had to offer. I also did not know that we have to charge our armband with money beforehand so that we could pay for food and drinks, so I kinda waited in a long line for pizza only to be told 20 minutes later that I cannot pay in cash! Nevertheless, there was some certain attractiveness to being so spontaneous and just letting myself go with the flow, so in the end, the whole experience was definitely a great one.
The festival incorporated four stages: the South and the North main stage that hosted the main acts and famous superstars; the Perry's stage on which mostly electronic music was played, and last, but not least, the alternative stage where hip hop and some other alternative-like genres were played. You can see the full program below, together with the events at the wine garden and the kids' stage/corner.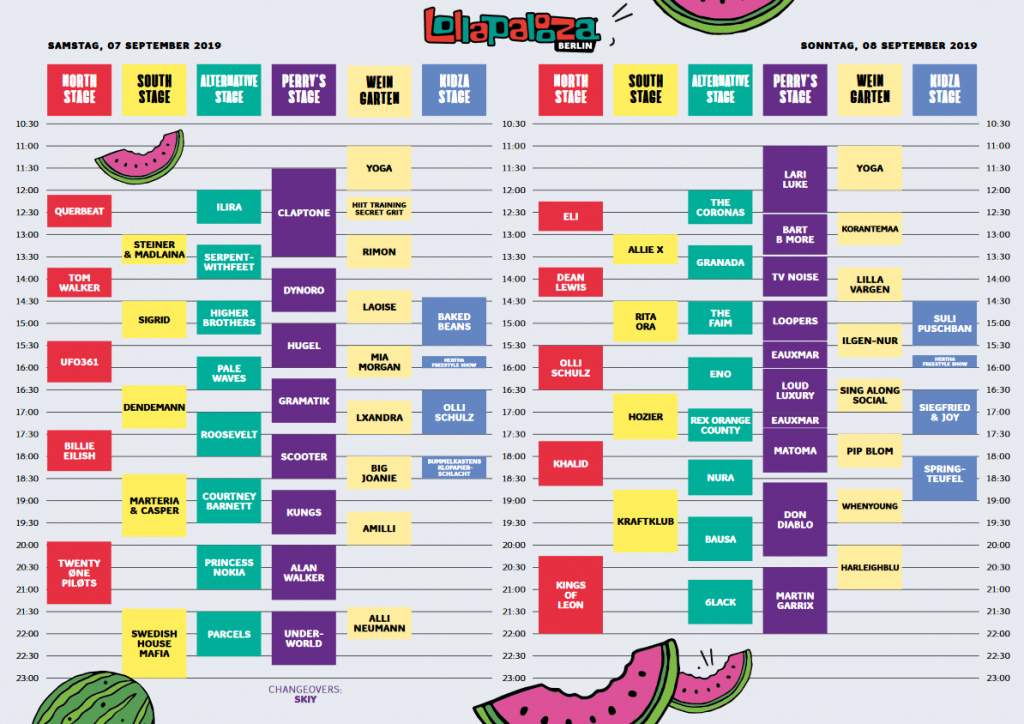 If you are really dedicated, you can get yoga at 11 o'clock in the morning, but I would recommend that you keep your strength for the partying. 😉 Regarding the performances, it is impossible to hear all of the acts on all of the stages, not only because they overlap with one another, but also because at some point you actually want to sit down and grab some food or drink some water. It is a definite upside that the main acts on the two main stages were not overlapping, so in theory you could have heard them all, but they were starting one after the other with very little to no break in between, so eventually you do decide to miss some of them. I think I would have preferred if I got there earlier and just spend some time chilling around, exploring the art, crafts, and fashion aisles, and later go to party. Instead, I arrived on both days at time when the artists that I wanted to hear were starting to perform, so I did not get the chance to dive so deeply into the whole besides-the-music world. I will know better next year. 🙂
Regarding the musicians, the highlights of this year were: Billie Eilish, 21 Pilots, Swedish House Mafia, Alan Walker, Rita Ora, Hozier, Khalid, Kraftklub, Kings of Leon, and Martin Garrix. Truth be told, none of these artists is my favorite one and I do not know all of their songs, but this does not mean that I did not have fun. Let's go through some of the artists whose performances I attended.
I found out about Billie Eilish at the festival and felt incredibly old among all the crying teenagers, but I also felt embarrassed that I have somehow managed to miss her music and talent. She is in fact, the first and up to now, the only musician born in the 2000s to record a number one single in the United States. With millions of followers, chilled attitude, and energetic performance, she is someone who deserved to be on the festival's main stage.
Twenty One Pilots killed it on the stage! With an incredible energy, wish to motivate the audience to not only hear the music, but also enjoy it and live it, they did everything in their power to make their performance an unforgettable experience. We got it all: poetic talk, security guards showing us how we need to dance, and even crazy stunts like stage diving, the audience holding Tyler as he sang, or the audience holding the whole set of drums up in the air as Josh was drumming; or Tyler climbing an I-do-not-even-want-to-know-how-high metal construction and singing from its top… It was impossible to stay idle while they were playing and after this festival, I would even buy tickets for a concert of theirs just so that I can – as Tyler Joseph puts it – celebrate the musics with bunch of other people again.
Hozier was a living poetry. He has such amazing lyrics to his songs and because he complemented them with an amazing team of back-up vocals and instrumentalists (he performed with drummer, violinists and guitarists), his performance was a true blast for my ears and soul. I find it a bit sad that we were all somehow impatiently waiting for "Take me to church" and probably failed to acknowledge the artistry in his music to the max, but that song is so powerful and gives me such goosebumps so that each time when I hear Hozier I have to think "Take me to church", same as I think "Harry Potter" each time when I hear J. K. Rowling.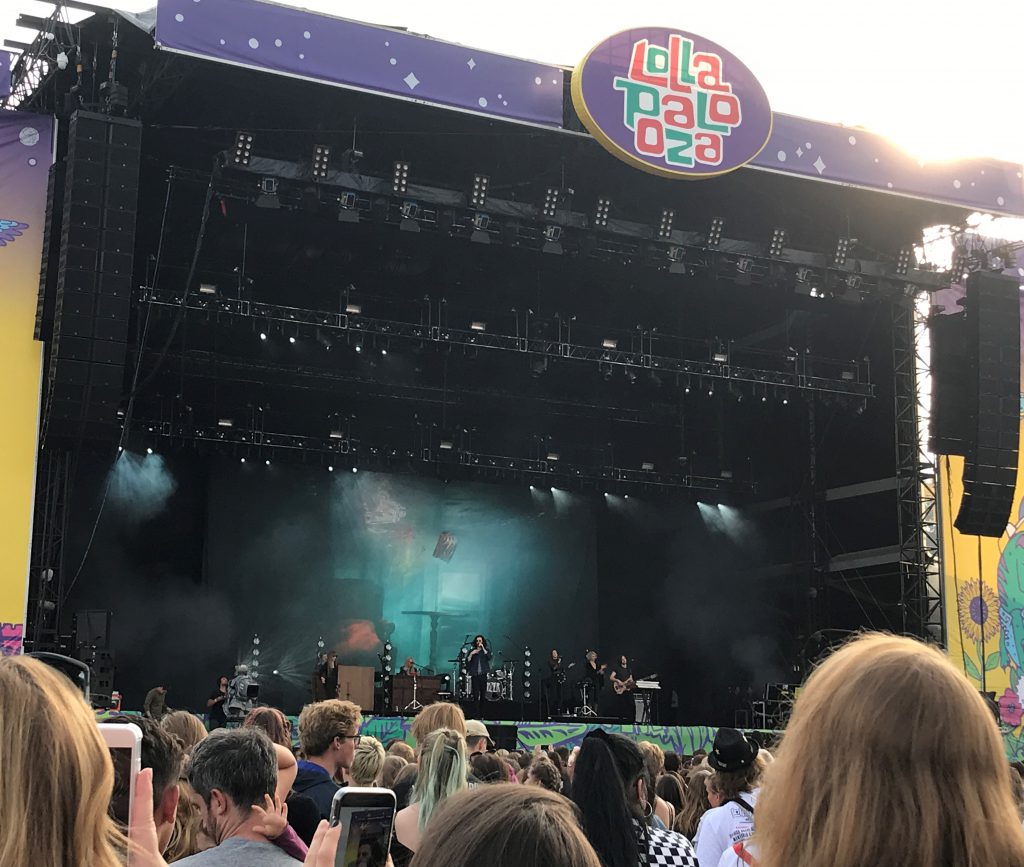 The biggest surprise for me was actually Kraftklub. A German band with excellent (indie) rock sound with some mild hip hop undertone, they made the crowd go wild. I guess this is normal since they are very popular in Germany so the audience enjoys a local artist, but even I – with barely catching some words from their lyrics – had an amazing time. We all laughed, danced, jumped, and cheered for more as they kept on enjoying on the stage maybe even more than we did in the audience. I have rarely seen such a great contact with the audience and I vote them, without any hesitation, my favorite act on the festival. I even forgot to take a picture or a video – that is how much I enjoyed listening to them! 21 Pilots come close, but I give Kraftklub a big plus for making even a person who does not understand what they are singing have so much fun and experience such a joy and happiness through their music. Thank you guys!
Finally, Kings of Leon. Excellent music, poor communication with the audience. They barely spoke to us, I even wondered if they knew where they were. Finally at the end, the lead singer Caleb Followill did greet us very nicely and thanked us for welcoming them so warmly, but I would have really wished to see some more initiative from their side, similar to 21 Pilots and Kraftklub. What compensated for their lack of appreciation for the audience was the excellent stage, sound, and light effects.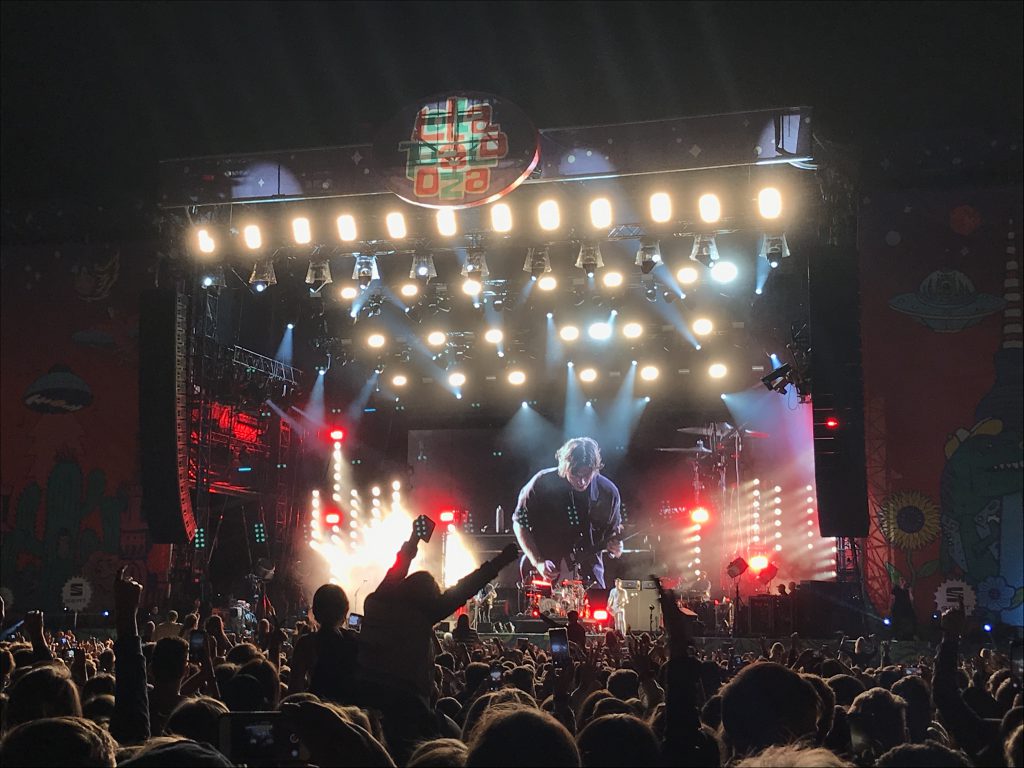 Last, but not least, I apologize that I am not uploading videos, but it seems like no matter what I do – they are just too big to fit in this post. I guess you will have to go to Lollapalooza yourself next year and take videos yourself. All in all, I do recommend the festival and I do think it is worthwhile to spend one of your weekends there, but I would have wished to sometimes see the people dancing a bit more. With that, I am gonna camp out and ask you: are you going to festivals often? What do you love the most about them and what does annoy you the most? 🙂