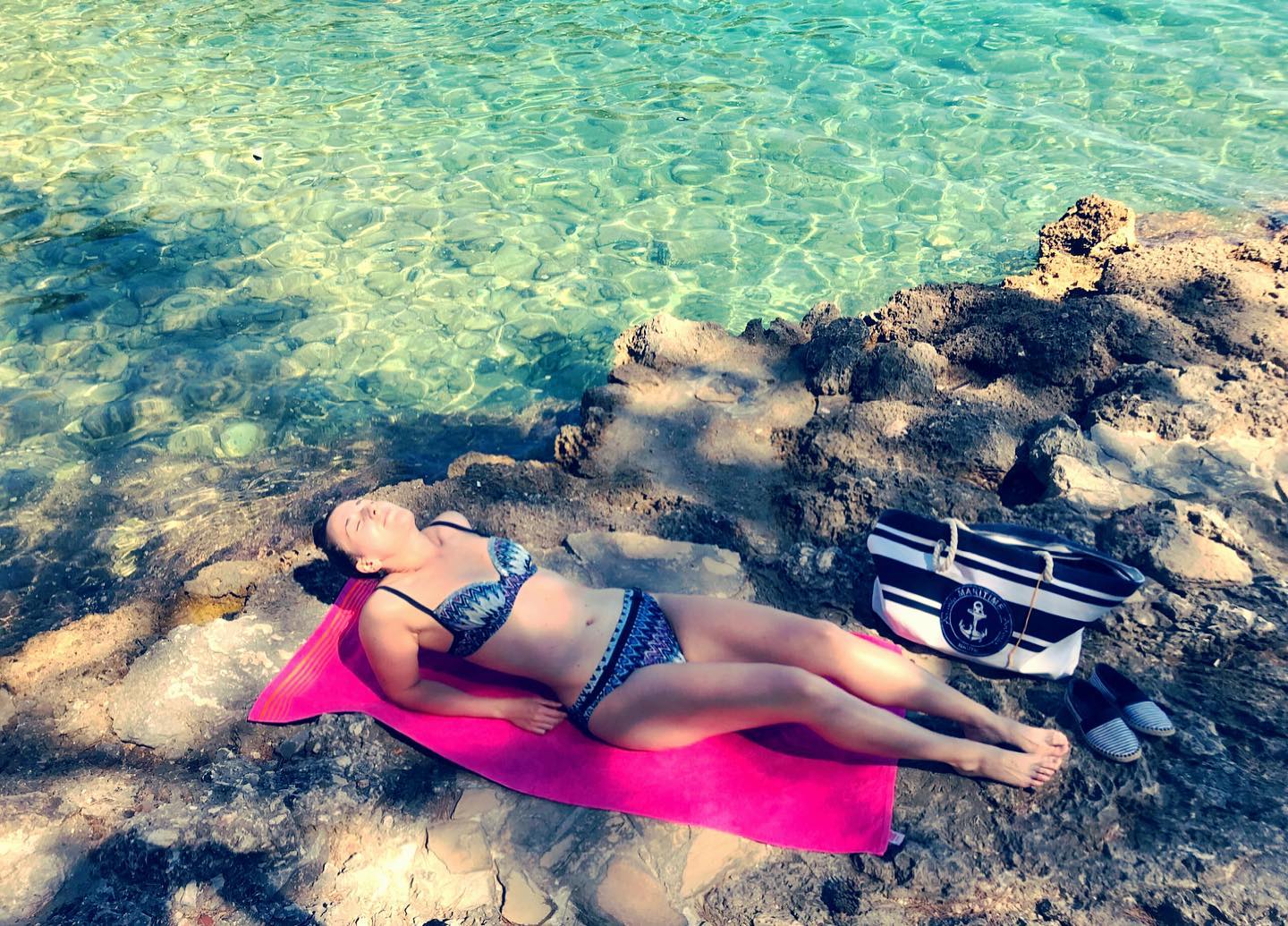 Summer has always been my most favorite season of the year. Even as these three months seemingly get shorter (because I am a responsible adult now duhhh) and hotter, one fragment of this season remains everlastingly sacred to me: visiting the sea. Ever since I was a kid, the salty water was the place where I managed to reach meditative-like serenity and to calm my overthinking mind and over-tensed body just by listening to the sound of the waves. The Earth would roar; I would listen. At this oasis of life, I would wait patiently for the sun to kiss the horizon and blend the sky with the most outstanding burning colors, and only after witnessing this nature's intimate moment, I would find the strength to leave the beach.
Sadly, last year, I did not manage to go to the sea. I submitted and defended my master thesis at the end of August and after a rather stressful time for me – a thesis that was not going ideally and with my future (career) hanging in the air – I decided to go home to Macedonia and spend some time with my family. Anyhow, I am drifting and these are stories for other days. What I wanted to say was: since I did not manage to go to the sea last year, I got overly excited for my sea-side holiday this year. I bought three pair of bikinis, shoes for the beach, bag for the beach, sun-tanning oils and you-name-it-what: I had it all ready! Well, kind of all… What I lacked was an accommodation and I did not really know where I would stay almost until the departure day. I would say I got my priorities right, no? 😀 My boyfriend and I booked our accommodation a few days before we left, but if you ask me, I honesty do not know why I would need a room or an apartment when I have the beach.
Packing for the summer holiday is a ritual in itself and during this ceremony, my boyfriend was partially rolling his eyes, partially laughing at me, and partially, of course, commenting that I will not need even half of the things I packed. Naturally, he was right, but that is now not the point. The point is: do not tell him I said he was right. 🙂 I only hope that I will one day make him realize that preparing for the big blue is half of the fun and it is a way I let myself know in advance that I am finally going where I was meant to be: by the salty water, under the clear, sunny sky. Carefully folding plenty of wonderful outfits, even though I know I will spend most of the time in my swim wear, is my way of giving my respects to the sea. This might sound ridiculous to you, but tell me, when do you dress up most joyfully? I guess when you were excited to get somewhere important, or to impress someone dear to you, or for a celebratory event. Well, for me, my trip to the infinite and everlastingly trembling blue is all that and so much more.
This year, I spent my vacation in Croatia and today I arrived in my home town Skopje in Macedonia. I will be writing a bit more about this summer vacation in some other posts, but for now – just take a look at the map to acknowledge the fact that I did quite a tour. I will take a moment myself as well.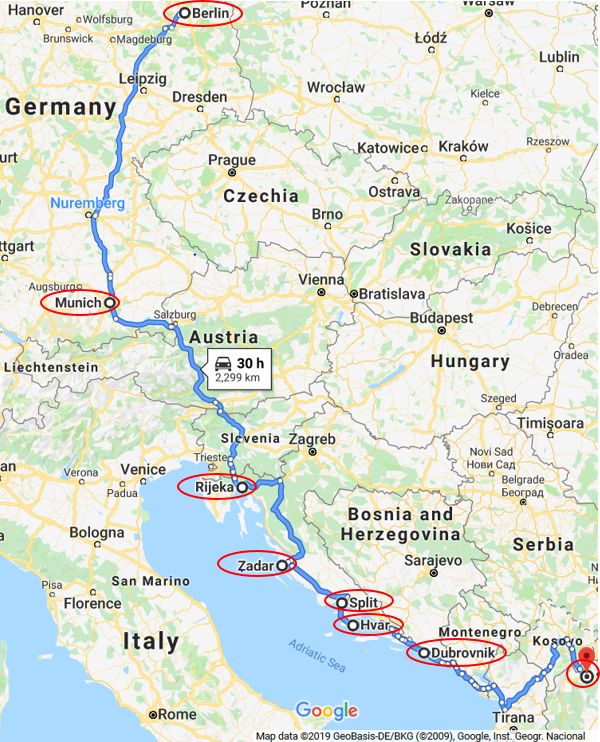 The journey itself can best be described by the cheesy quote "it is not about the destination, it is about the journey", because my boyfriend and I left Berlin at 6:00 am and reached Rijeka on the following day at 9:30 am. Yes, twenty-seven-and-half (27,5!) hours, and no, Rijeka is not in Australia. Do not drop your jaw, it is not as bad as it sounds, I promise. We firstly took a train to Munich, a ride that lasted around four to four-and-half hours. We then decided to spend the day in Munich, because I have never visited this city and I heard it to be nice (yes, it is). Here I could probably talk in lengths about the Kunsthalle Münich and their wonderful exhibition on Canadian Impressionism, but I will leave this for an article in the blog's Art section. This stay in Munich was around 12 hours long, so then actually; our journey to Croatia was not that long after all.
We took a night train from Munich to Rijeka because we wanted to travel in a more environmentally friendly way. Truth be told, the night train was one step away from a disaster for us, mostly because we did not reserve beds, but we still felt good for not flying. Sadly, by the time we reached Rijeka we were tired and the only thing we managed to see was one glorious jambo pizza and several cold beers. Good enough for me, especially because Rijeka was not really where we were planning to stay.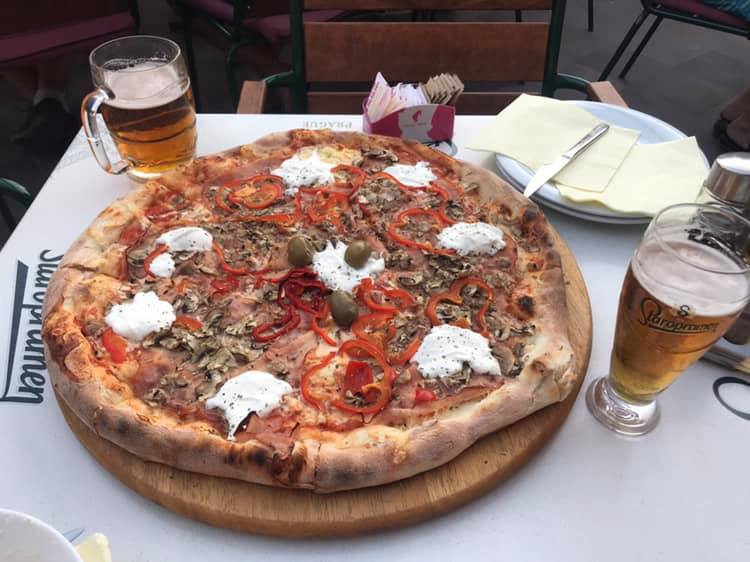 In Rijeka, we met my parents. As always, I was beyond happy to see them and this time I especially appreciated that we will spend some summer-vacation days together, same as when I was a kid. The next day, we continued towards Zadar on a road that spreads along the coastline. My mum casually wanted to joke that the road is like a local road with two narrow lanes, while my dad was insisting that the road is just fine. I did not pick a side to support or encourage, mostly because I just loved seeing my parents quarrel in a friendly, relaxed and joking-like way. Some 70-km before Zadar, my mother booked the most wonderful accommodation for us all: a house with a balcony and doorstep coming out on the beach. Experiencing this proximity to the sea, made me firmly decide that even a five-minute walk to the beach is a torture! Take a look at it on the left-hand-side picture below!
Devcic Draga, near Zadar: The only balcony you will not want to ever leave

Admiring Zadar's cathedral St. Anastasia – the largest church in all of Dalmatia
My boyfriend and I visited Zadar for a day and the next day we were off to Split, where we spent a few hours before taking a ferry to our "real" destination: the island of Hvar. I would have wished to spend some more time in Split, since it wow-ed me instantly with its preserved architecture and abundance of archeological wealth, but honestly, it was so crowded that I got anxious just by looking at those people! I was so relieved when we finally reached Hvar.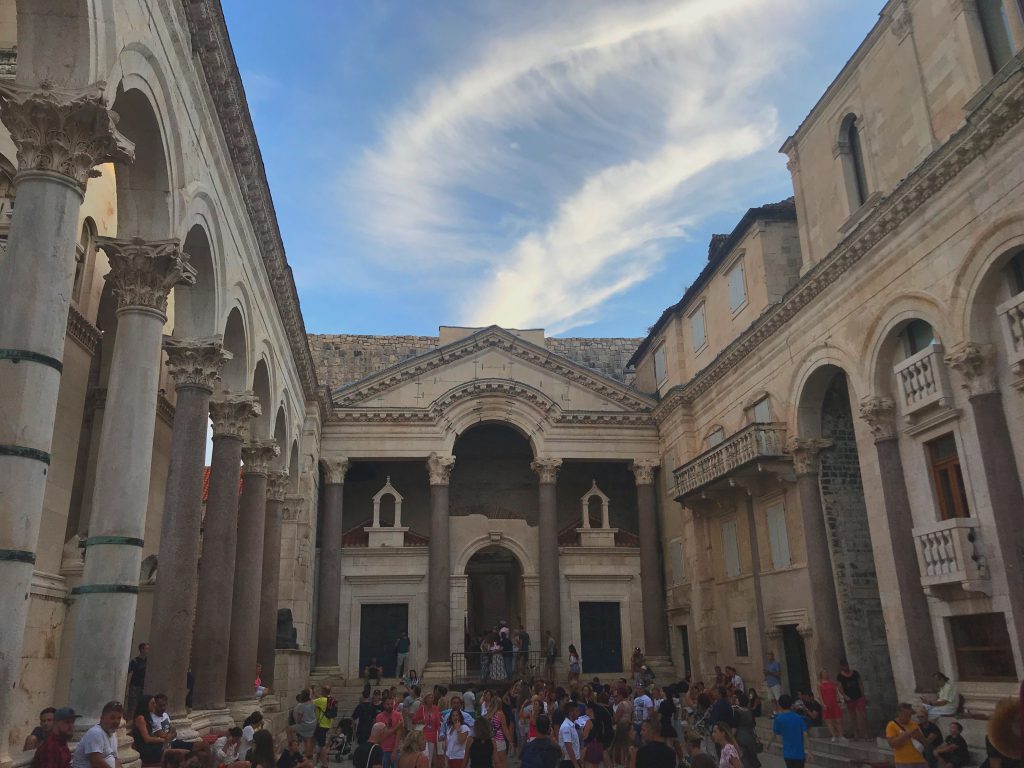 After eight nights at Hvar, we took a katamaran (a fast, passengers-only boat) and were on our way to Dubrovnik, where we spent also two very fuilfilling days. I will write in more lengths about both Hvar and Dubrovnik in some upcoming posts, since it would be unfair to kinda just cramp them in this one. Trust me, they deserve more that a few sentences. Thus: stay tuned, for shorter posts and bigger joys.